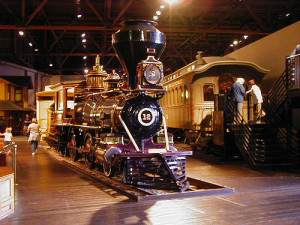 Choo Choo!
There are some things that all kids seem to be fascinated with. Trains are definitely one of them! We have been anxious to check out the Railroad Museum and finally did for the first time on Sacramento's Annual Museum Day in February.
The Experience:
Upon entering, we felt like we were back in time with an exhibit of a huge vintage train and coal miners. The whole first floor was filled with real trains, old and new, that we could walk around or through. It was fun to peek inside the windows of an old excursion train…the dining car, the kitchen car, the lounge car…and just imagine what it used to be like. The kids had a ball climbing on a freight car and pretending they were taking a ride. My favorite was the postal train…there was a guide explaining how the postal system used to work between the trains and the pony express.
The 2nd floor was an even bigger hit with my little ones, who are ages 5 and 2. What could be better than a Thomas the Train display? There were several train cars running the tracks and a clear bubble they could stick their heads into for an unbelievable view. There were a couple of small train tables for them to play with and even with all of the children there, they were satisfied with the amount of play time they were able to get. The rest of the 2nd floor was filled with model trains…old and new. It was truly amazing to see so many trains in one place! This museum is both educational and fun-filled…definitely memorable!
Our kids gave it 2 thumbs up!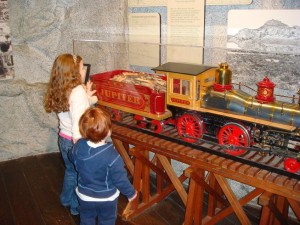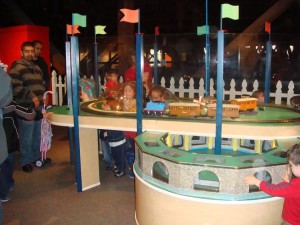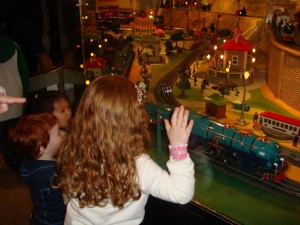 Expenses:
General admission is $8.00 for adults, $3.00 for kids 6 – 17, and FREE for kids 5 and under!
[Parking for Old Sac varies. The Parking Structure off of J street is $1.50 per 1/2 hour or a flat rate of $5 – 10.00 on weekends or special event days. Parking off of I street has an electronic meter…you can purchase a block of time for just a few dollars. There is quarter-metered parking along both streets inside Old Sac.]
Tips:
Due to stairs on and off the large trains and stairs up to the second floor, it is much easier to get around the museum without a stroller. We brought our 6-month-old and just carried him…it worked out great.
As it is located in Old Sacramento, there are many other things to do before or after the museum. When we were finished, we hopped on one of the horse-drawn wagons parked out front and had a really fun ride around the streets of Old Sac. Then we walked around the Delta King Riverboat before we headed back to our car.
The museum also offers tickets for a Train Ride along the river.  The train runs every weekend between April and September. It is a 40-minute ride and costs $8.00 for Adults, $3.00 for Kids 6-17 and FREE for Kids 5 and under.
The California State Railroad Museum
www.californiastaterailroadmuseum.org
Old Sacramento, 111 I Street, Sacramento, CA
(916) 445-6645
[mappress]