Aquatic Centers are like mini water parks with amazing play structures and water slides that kids go crazy for! For just a fraction of a large water park's price, you can have a ton of fun cooling off!
Here are the three local aquatic centers we have in the greater Sacramento area: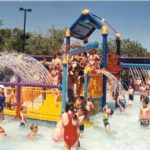 1200 Riley St, Folsom, CA
(916) 355-8318
Recreation Swim Hours:
Daily 1:00 – 6:00pm
Prices:
Ages 4 – 54 $7.00 (add $3.00 for inflatable obstacle course), Ages 2 -3 $4.00, Under 2 Free
*snack bar is cash only
The pool features a beach-slope entry and two play structures. The Tumble Buckets feature assures you'll get soaked; continuously fill with water and douse anyone playing below. The play structure features a slide, climbing ladders, water cannons and adjustable sprayers that kids can control. For the daring, our giant 165-foot twisting, turning water slide will keep you coming back for more fun! Our kiddie pool is shallow with fountain type features.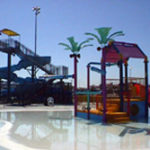 3051 Woodcreek Oaks Blvd.
(916) 774-5262
Recreation Swim Hours:
Saturday & Sunday    1:00-5:00 pm
Monday-Friday           1:00-4:30pm
Prices:
Ages 5 and over $5.00, Ages 2 – 4 $2.00, Under 2 Free
Family Night:
June 10-August 2    Monday/Wednesday/Friday           7:30-9:00pm
Children under age 2 are FREE with a paid adult admission
Ages: 2-4: $1
Ages: 5+: $3
The Roseville Aquatics Complex includes the Summer Sanders Olympic-size competition pool, a zero-depth recreation pool with beach entry, a 150-foot water-slide, and a children's interactive water play area.
[Check out our REVIEW here!]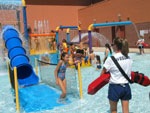 9014 Bruceville Road, Elk Grove, CA
(916) 405-5600
Recreation Swim Hours:
Weekdays (June 3rd – August 9th) 12:00 pm – 4:30 pm, Weekend Hours (May 25th – Sept 2nd) 12:00 – 5:00
Prices:
Ages 5 and up $6.00, Ages 2 – 4 $3.00, Under 2 Free
The Wackford Community and Aquatic Complex features a 25 meter by 25 yard competition lap pool, a zero-depth entry recreation pool with a 146 foot water slide and waterplay features, and a spray pool for children 6 and under.