We had a blast at Six Flags Discovery Kingdom on Saturday with my 3 kids and niece! Six Flags has long been one of our favorite destinations because of their combination of rides and animals. Saying that the kids were excited would be an understatement. It is always a guaranteed memorable experience for our family!
Here are our 5 fun reasons to go to Togo's and Six Flags soon:
1. Discount Coupon from Togo's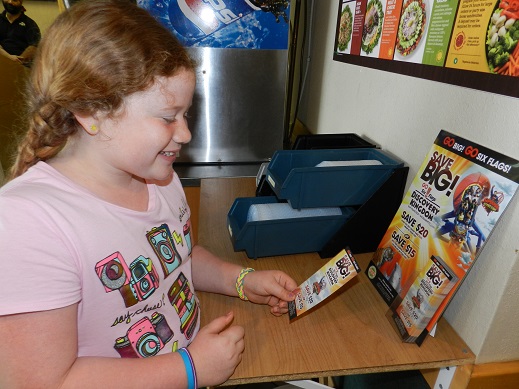 Togo's and Six Flags Discovery Kingdom have teamed up and are offering a really GREAT DISCOUNT through May 19th! We stopped in to a local Togo's on our way to the park and had a super yummy lunch. It is the perfect place to fuel up for a big day with a fast but healthy meal. If you pick up the SAVE BIG coupons at Togo's and bring them to Six Flags, you will receive $15 OFF ADMISSION for each person! Isn't that awesome?
2. A Clapping Walrus
We could have watched Six Flag's resident walrus All DAY! The whole family got a kick out of seeing this guy up close. We were mesmerized by the fact that he was actually clapping…so loud you could hear it! He hung out in this corner checking us out the entire time we stood there. Seriously made our day!
3. Awesome Rides for Kids

When we enter the park, we typically head straight for Looney Tunes Seaport, where every one of our kids are tall enough to go on the cute rides. They adore Daffy's Deep Sea Diver submarine ride, the Road Runner Express coaster, Taz's Typhoon swings, and the ACME Fun Factory where they blast foam balls at each other!
Another favorite area of Six Flags is Tava's Jungleland. While walking through and standing in line for the Safari Jeep Tour and Nairobi's Lookout Balloons, you get to see ANIMALS! Exotic birds, giraffes, turtles, porcupines, and so much more!
The two oldest kids were tall enough this time to go on the "big roller coasters" and had the thrill of their lives on Cobra and Roar. I was so happy to have roller coaster companions!
4. Many Ways to Cool Off
Now that our temperatures have skyrocketed, it is an added bonus to be able to cool off at Six Flags. Play on splash pads, go on one of the few wet rides, or sit in the splash zone at the dolphin show! Our favorite way to cool off is the White Water Safari ride. The whole family can sit in a round "raft" together for a wild ride through river rapids. So fun!
5. Exciting Dolphin Drench Show
This new Drench! Dolphin Show is a must-see! The loud, fun, familiar music immediately pumps you up while the trainers and dolphins are getting ready. They put on a fast-paced show filled with such fantastic tricks that we kept saying to each other, "Did you see that?!". We did not want it to end! I recommend getting in line 30 minutes before the show starts to sit in the splash zone or get a good seat in the stadium. Also be on the lookout for another cool new show coming to Six Flags in June, Cirque Dreams Splashtastic!
What an incredibly awesome family day!
To try out the TOGO'S – SIX FLAGS DAY yourselves, go here for more info on location, hours, and prices: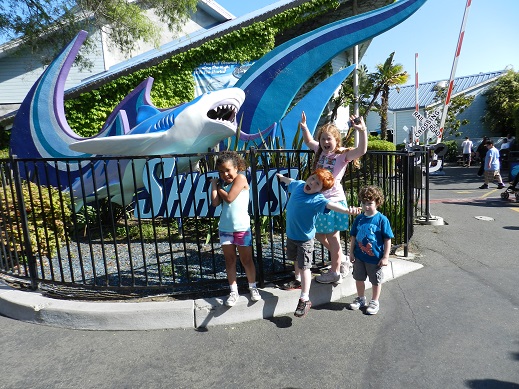 [Disclaimer: Our family received a complimentary meal from Togo's and tickets to Six Flags to facilitate this review of their promotion but as always, all opinions are 100% my own.]