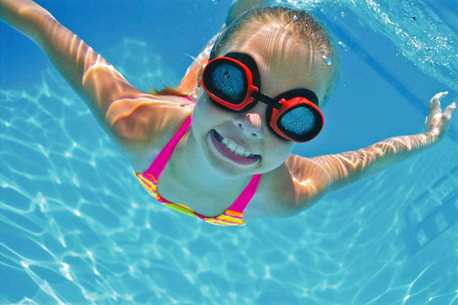 Are you looking for private or group swim lessons with certified lifeguards? I've got a great option for you in the Greenhaven/Pocket neighborhood of Sacramento!
Greenhaven Cabana Club South offers private and small group swim lessons to club members as well as non-members. Each session is 10 lessons, taught Monday thru Friday for two consecutive weeks. Semi-private lessons have two students.
My family has a membership to this pool and just love everything about it, especially the cleanliness, friendly lifeguards, and grassy lounging area surrounding it! Several of our friends have given their children swim lessons here. They have all enjoyed their instructors, gained the skills desired and feel much safer in the water!
3 Sessions Available: (Visit their swim lesson page for the lesson schedule)
Session Three: July 22 – August 2 (registration deadline is Thursday, July 18 – some slots fill earlier)
Session Four: August 5-16
Session Five:  August 19-30  (one or two week option)
Prices:
Semi-private lessons – Members $70; Non-members $100
Private lessons – Members $85; Non-members $115
Why Swim Lessons are Important
Swim lessons address safety issues in a structured manner, teaching children first to be unafraid of water and get their faces wet, then to float and breathe properly in a way that self-education cannot teach. The repetition used in organized swim lessons triggers the same neurological result again and again and resulting in learning, according to the Broward County Drowning Prevention Task Force. The process is especially effective for small children.

The use of movement along with explanations and demonstrations by the teacher reinforces learning the movement. A progressive program of skills such as that used by the Red Cross Learn to Swim Program builds simple skills, one upon the other until the child is able to put together breathing and movement into a swim stroke. Simple strokes like the dog paddle and elementary backstroke give way to the more powerful and efficient breaststroke, backstroke and freestyle stroke. By building from simple to complex and using repetition, swim lessons educate while minimizing stress.
(taken from http://www.livestrong.com/article/345806-importance-of-swim-lessons/)
For more information on the swim lessons and instructors at Greenhaven Cabana Club South, please CLICK HERE. I recommend registering right away as their slots fill up fast!