[Updated Oct 2017]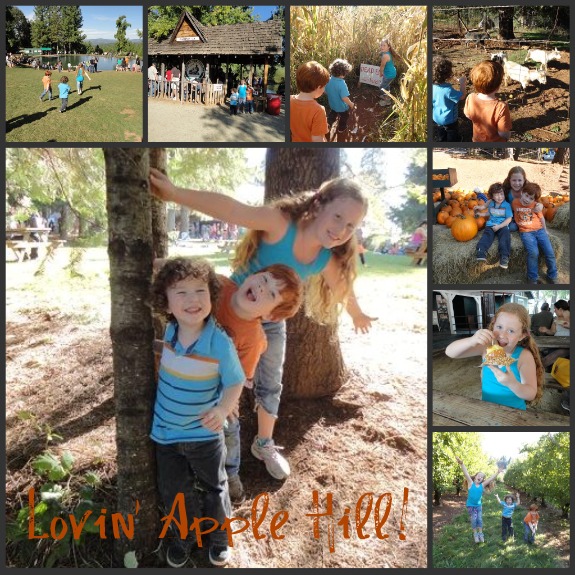 If you ask Sacramento families what the perfect traditional Fall outing is, more than likely the answer you will hear is…APPLE HILL!
It is hard for me to admit that in the eight years that we have lived in Sacramento, we have never once been to Apple Hill!  Every Fall I planned on making the day trip and before I knew it, the weekends had gotten away from me!  So this year I was determined to make it up there and see what all the talk is about.  The older the kids get, the more I think about establishing traditions for wonderful childhood memories.
My determination to get up there led me to going on a Saturday afternoon even though I was advised that it would be crowded.  Weekends in October at Apple Hill are known to be the busiest of the season.  After driving an hour to get there, it took another hour just to get off the highway and into the first parking lot.  Thank goodness we had a fun time and I came away with some wonderful photos of my kids that made up for the exhausting time in the car!  So my number one tip for you is to either go early in the day on the weekend or go on a weekday if at all possible.
If you have not been there yet, the Apple Hill Growers Association, located in Camino, Placerville, and Pollock Pines is comprised of more than 50 ranches including Christmas Tree farms, wineries, a micro-brewery, spa and vineyards.  There is a pdf map of the orchards that you can print out and use as a guide.  They are open all year round, but the best time to go is in the Fall.  October tends to be more crowded, but the changing colors of the leaves makes it so beautiful.  If you want your kids to pick apples, then early October is best.  November is still a good time to go as it has cooled off and if you dress in layers, it is more comfortable than the hot October days.
With so many ranches to choose from, it is important to take a look at the activities available and check out the map before you go with your kids!  Having it planned out will make all the difference and enable you to have a nice full day of fun.  Based on recommendations from readers and friends, I chose 3 orchards for us to visit and our experience turned out to be a fantastic one!

Our first stop was High Hill Ranch, which is the most popular Apple Hill destination.  This is where you need to bring your picnic lunch!  You can sit around the trout fishing pond and relax while your kids run wild after the long drive.  Mine loved rolling down the hills and then climbing back up.  I was mesmerized by the beauty and loved feeling as though I had really "gotten away".  We peeked through the window at the huge cider press and tasted the free cider samples…yum!  High Hill also has a pumpkin patch, hay rides, pony rides, and face painting available for a charge.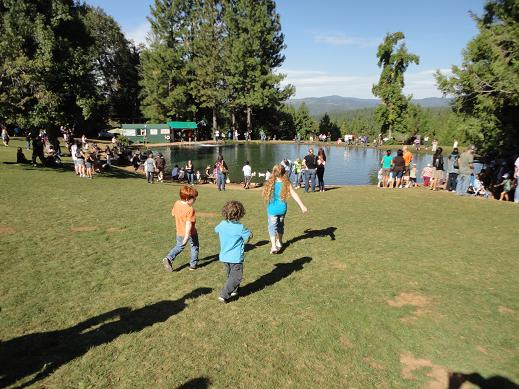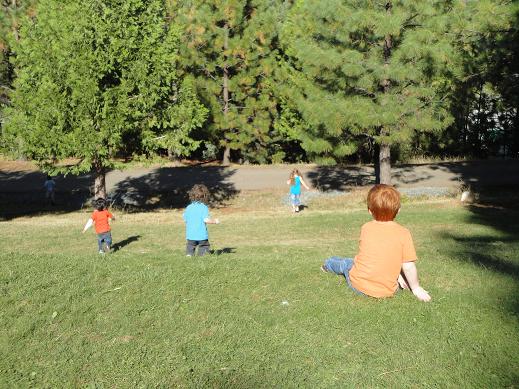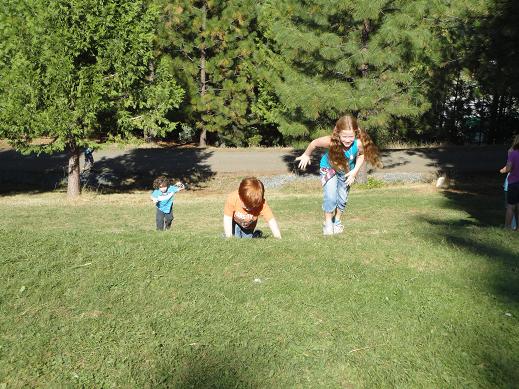 El Dorado Orchards was our second stop and it was super easy to get in and out of this little ranch.  Our sole purpose in going there was to ride the miniature train!  It takes you around a big pond and costs just $3.50 for a ticket.  The kids enjoyed watching the ducks as we waited for our turn and then got such a kick out of the fun ride! (Train runs Friday – Sunday continuously throughout the day)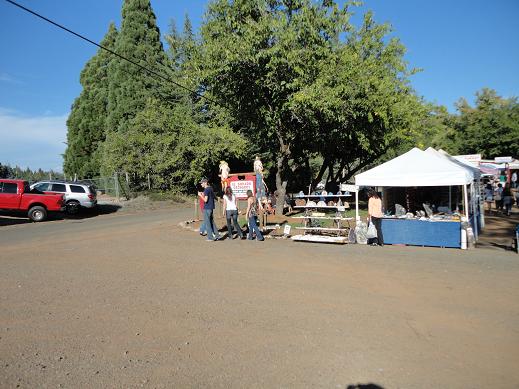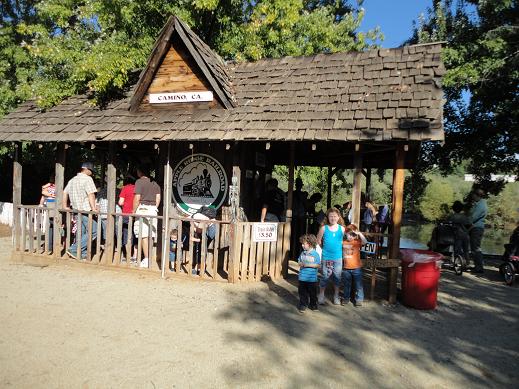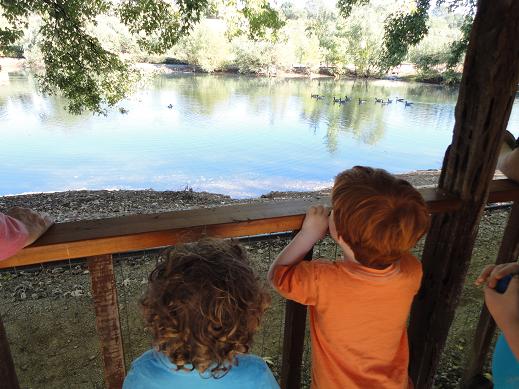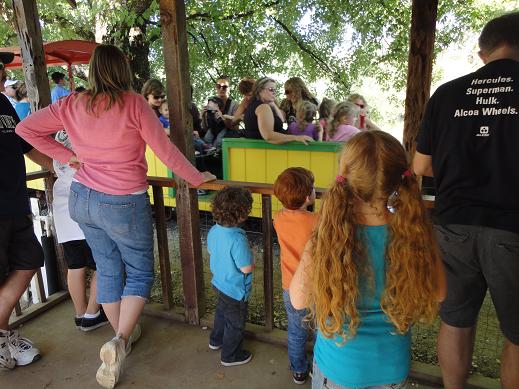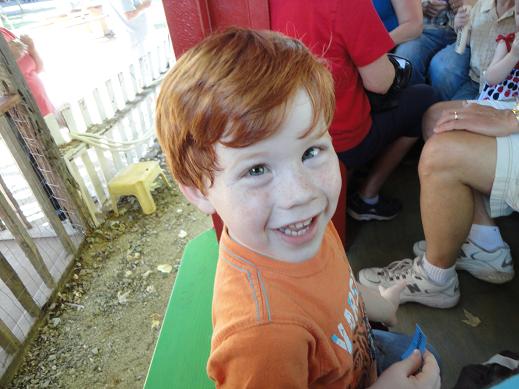 Our third stop was Delfino Farms (formerly Kids Inc.) We spent the most time at this awesome ranch.  The kids and I agreed it was our favorite of the three!  We took cute photos in the pumpkin patch, then headed down to the Children's Corn Maze where we had a great time!  The maze was just the right size for the kids to navigate on their own while I followed.  Once we successfully made it through, we trekked over to the farm animals and enjoyed watching them play together for a bit.  There were the most adorable little goats and a giant pig that my 3-year-old wanted to take home!
We wandered through the beautiful orchards and made our way up to the cute little bakery for our apple treats.  My daughter had her first caramel apple and the boys and I shared a huge piece of apple pie ala mode with this farm's famous Cider Sauce.  Wow!  Delicious!  We then used our sugar energy to walk the Nature Trail which was incredibly beautiful!  It took us for a loop through the "forest" and for a minute I thought I was out camping.  That was a great note to end on and we piled back into the car happy and satisfied.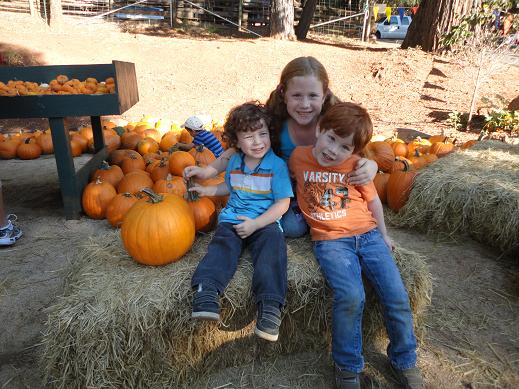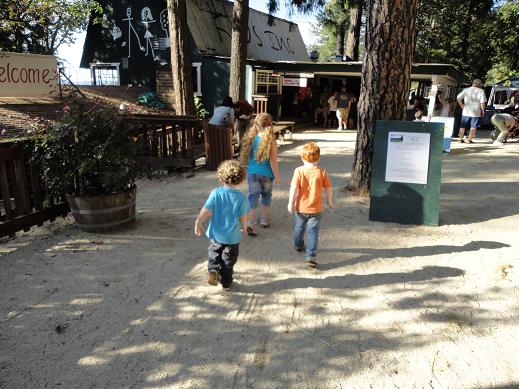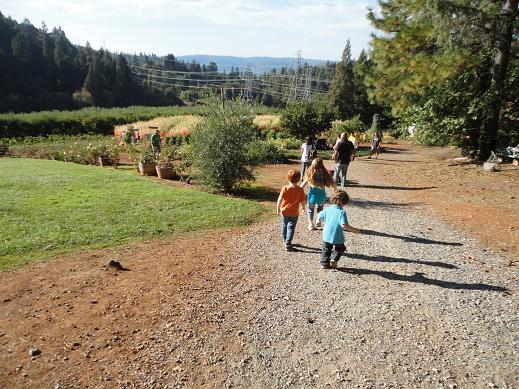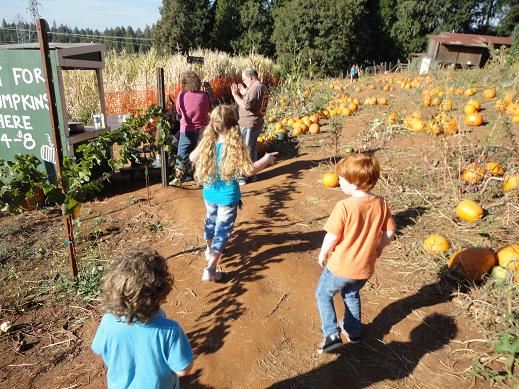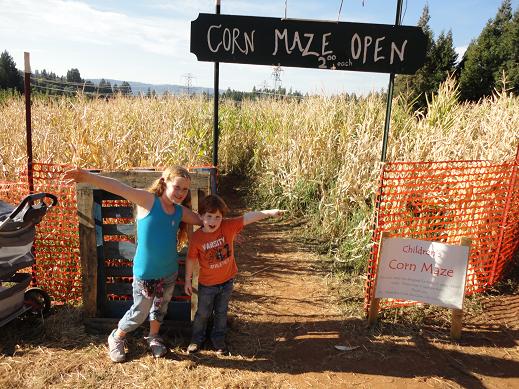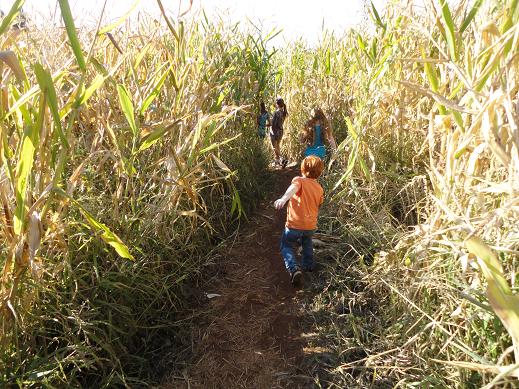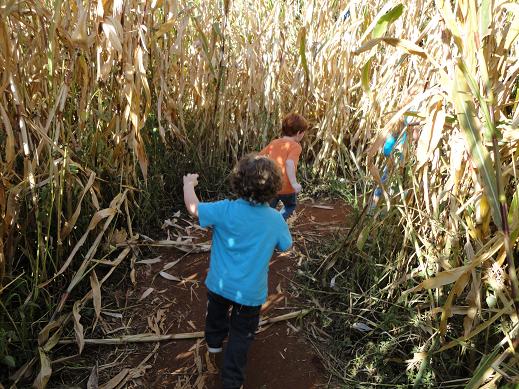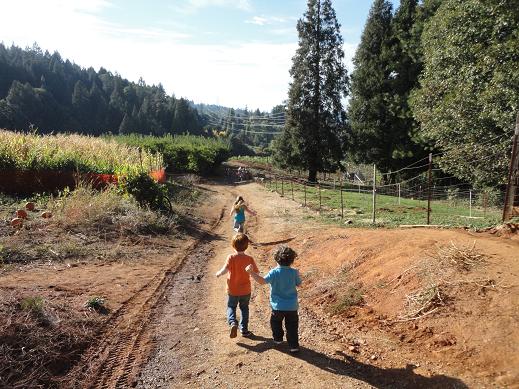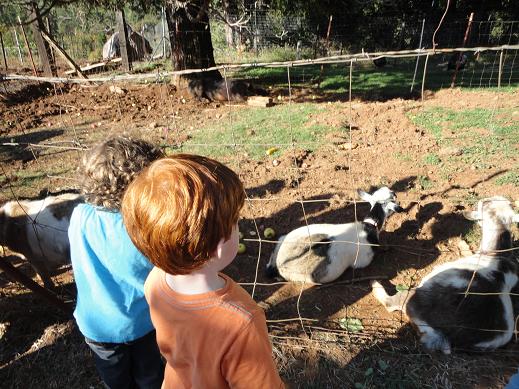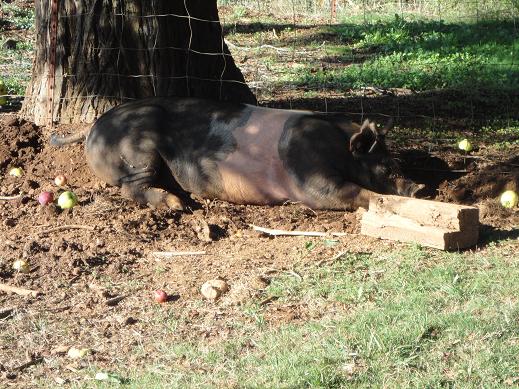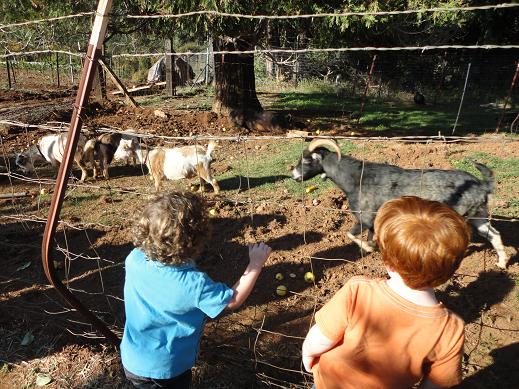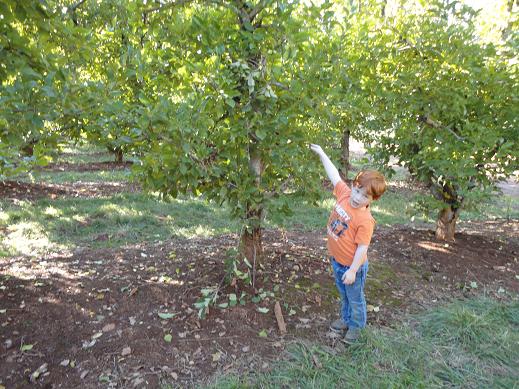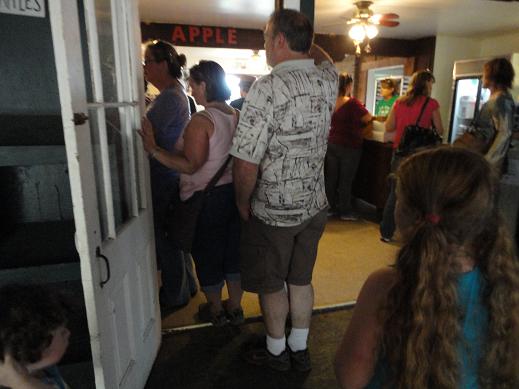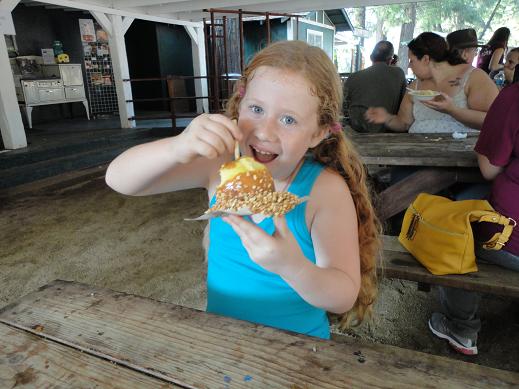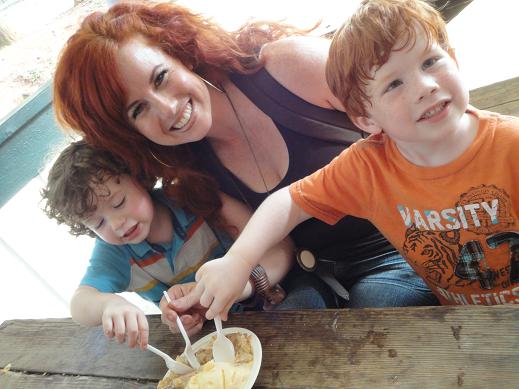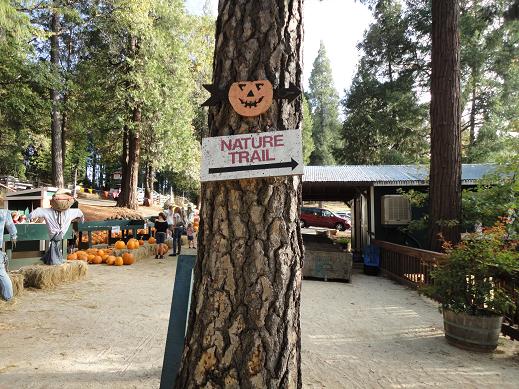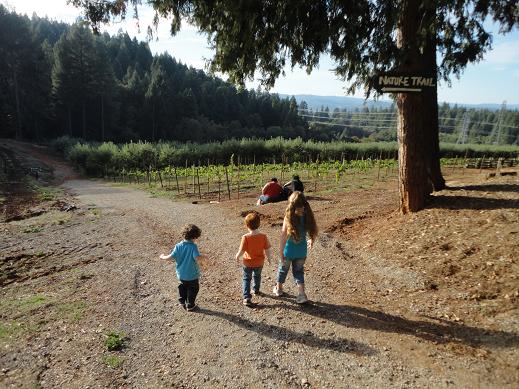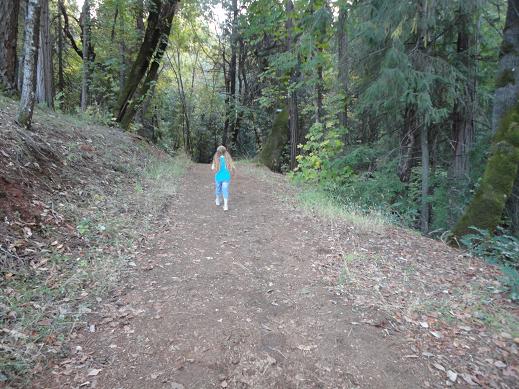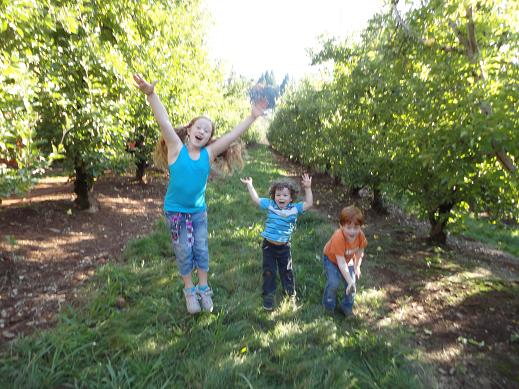 All in all, it was a wonderful day and the kids unanimously agreed that we must go every year!  I was also pleased that I was able to keep it an inexpensive trip by picking and choosing fun, low-cost activities from each ranch.  There is no charge for parking or to get in any of the ranches, so by only spending money on our train ride, the corn maze and our apple treats, our day at Apple Hill totaled just $30!
Today as I was looking over these photos, my three-year-old wanted to see.  I asked him if he remembered where we went and he said, "Apple Hill!  I love Apple Hill!".  Yes…the drive was worth it for this mom!
Other favorite orchards that have been recommended by readers:
Abel's Acres – (many say it's the best place for kids) pony rides, hay maze, wooden cut outs for pictures, Abel's apples, apple butter, candied apples, fudge apple fritters and turnovers
Boa Vista – pumpkin patch
Larsen Apple Barn – cool farm "museum"
Mill View – pumpkin patch, apple fritters and apple cider doughnuts
Apple Ridge Farms – pumpkin patch, hay maze, gem mining, face painting, kettle corn
Recommended things to buy:
Barsottis Apple Juice, Cider Sauce, caramel apple, apple cider doughnuts, Arkansas Black apples (tart), apple turnovers, apple butter, and apple pie…of course!

Apple Hill Growers Association
(530) 417-4887
www.applehillca.com
Map of Apple Hill farms
It is about 1 hour east of Sacramento and 1 hour west of South Lake Tahoe. Recommended exits are Exit 48 or Exit 54, although you may take any exit marked as "Apple Hill Scenic Drive" located between Exits 48 and 54.
Category: Blog, Fall, Fall Favorites, Favorite Posts, Outdoor Activities, Reviews