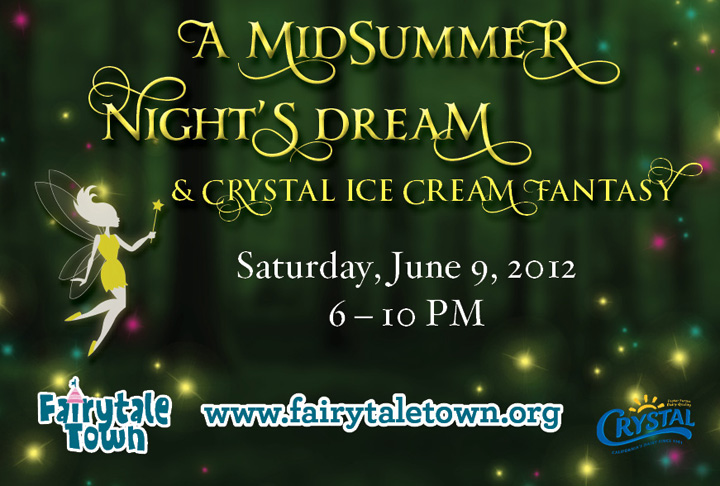 Get ready for a MAGICAL FAMILY NIGHT at Fairytale Town! This Shakespeare-inspired event combines their playful environment with a magical ambience filled with music…and ice cream! Does it get any better?
A Midsummer Night's Dream & Crystal Ice Cream Fantasy will be an enchanting evening featuring nonstop entertainment for the whole family, including costumed performers, fanciful arts and crafts activities, live music, food and all the Crystal Ice Cream one can eat.
Live music will be provided by Celtic rock band, Tempest. Since forming in 1988, the band has won rave reviews for their musical hybrid of high-energy folk rock with Irish reels, Scottish ballads, Norwegian influences and other world music elements.
When: Saturday, June, 9, 2012; 6pm – 10pm
Where: Fairytale Town
Tickets:
Advance tickets are $5 for kids (ages 2-12) and $15 for adults.
Day of tickets are $10 for children (ages 2-12) and $20 for adults. Children 1 and under are free.
~Proceeds support park programs and improvements~
Attire: Costumes for the entire family are strongly encouraged. Click here for Fairytale Town's costume inspiration resources.
My family can't wait! Hope to see you there, too!
Category: Uncategorized