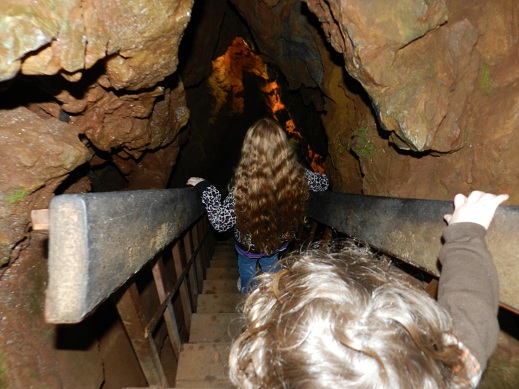 For this ADVENTUROUS DAY TRIP we hit these 3 spots:
Indian Grinding Rock State Park, Black Chasm Cavern, and Zen Garden Trail

Are you up for a new adventure?  I am so excited to share this awesome day trip we recently took with you!  This is one that the ENTIRE family will enjoy.  Three unique outdoor experiences in one day.  As I post these pictures to share with you I am feeling anxious to go back again soon!
I have known about the cave adventures in Northern California for a long time and have been very curious but it was only recently that I decided to jump into researching which one would be  most appropriate for families with small children.  Sierra Nevada Recreation runs four Cave & Mine Adventures locations in California, each of which offers both underground and above ground activities.  I found that the Black Chasm Cavern, which is just past Jackson, is the closest cave to us with a tour appropriate for kids…and even small kids.  As long as they can walk and handle stairs, they can take the WALKING TOUR!
We planned this outing for one of our last days of Winter Break when we had the whole day free.  Since the drive is a little over an hour, we took advantage and sandwiched the Black Chasm Cavern tour with a stop at Indian Grinding Rock State Park first and the Zen Garden Hike after (wait till you see the pictures…wow!) .
The next time you have a free day and are up for a nice drive, this is the adventure I HIGHLY recommend!!!
This day trip was unique, fun, exciting, inexpensive, and something the kids were talking about later! When I think about the fresh air and unique experiences of this day, the word that comes to mind is EXHILARATING.
1st Stop
Indian Grinding Rock SHP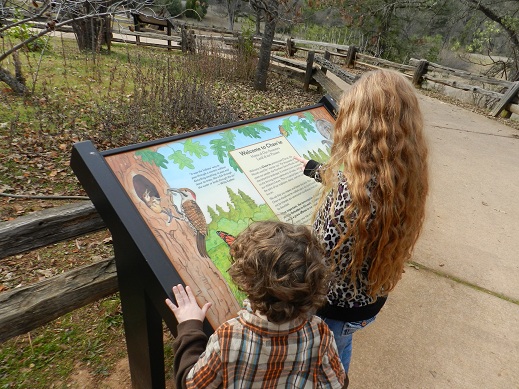 Driving from Sacramento, just 5 minutes before you get to Black Chasm Cavern, you will see Indian Grinding Rock State Historic Park on the left-hand side.  We timed it so that we stopped here first and then made it to the Cavern before the next tour started
The kids and I had fun wandering the park, reading about the Indians…and discovering why it is called Grinding Rock Park!
The park contains a reconstructed Miwok village, the Grinding Rock itself, bark houses, acorn granaries, a game field and the Ceremonial Round House.  A picnic area with a shade ramada near the grinding rock is the perfect place to eat lunch.
When you enter the park, you'll see a small Indian Museum that is FREE and features a variety of exhibits and collection of Sierra Nevada Indian artifacts. We didn't have the chance to check the museum out since we were there on a holiday Monday, but it looks like it would be interesting.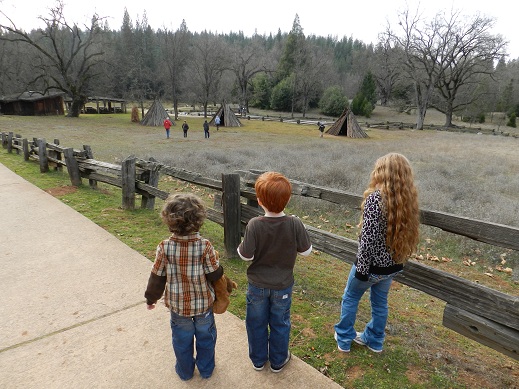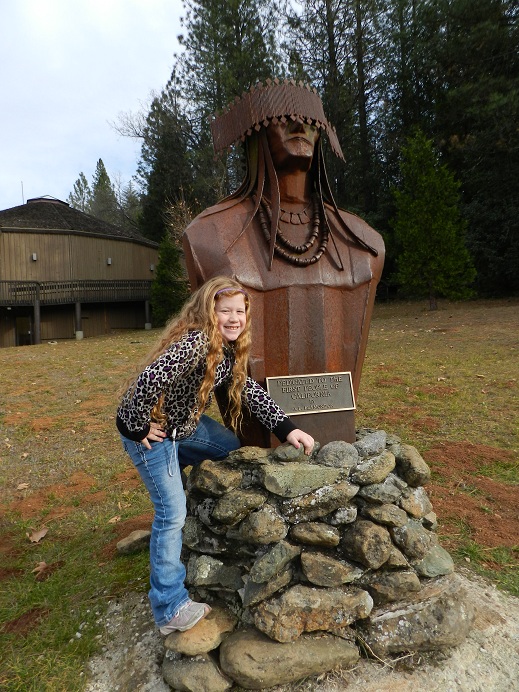 2nd Stop
Black Chasm Cavern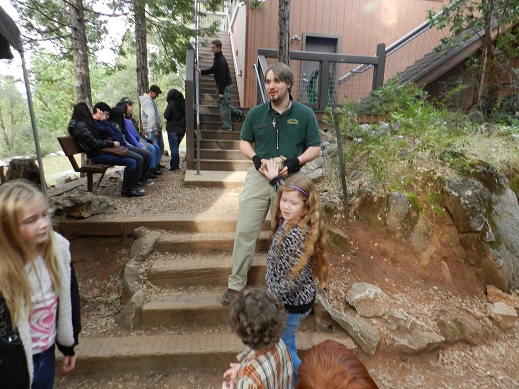 The kids' anticipation of entering a "real cave" was pretty great…and they were not let down!  Black Chasm Cavern is a vertical cave with a small entrance almost hidden within some large rocks and so there was sort of a mysterious feel as we stepped down into it.
The 50-minute Walk Tour is a series of stairs, platforms, and walkways, designed to give the best views of the cave.  The formations are mesmerizing!  The tour guide was so knowledgable and taught us all about the history of the cave and what the formations are.  The kids had heard about stalactites and stalagmites, so they were excited to see them and learn which is which.  We were nervous about bats and relieved to find out that they do not live in vertical caves such as this one.  The tour ends with a visit to the Landmark Room, where there is an incredible collection of sparkling helictite crystals.  We loved it when our tour guide pointed out formations that looked like Disney characters.
Black Chasm also offers gemstone mining and gold panning right outside the Visitor's Center.  A reader said that her kids had a fun experience with the gemstone mining and it was fairly inexpensive.
I hope these photos give you an idea of what it's like inside the cave but you'll definitely need to see how incredibly gorgeous it is with your own eyes!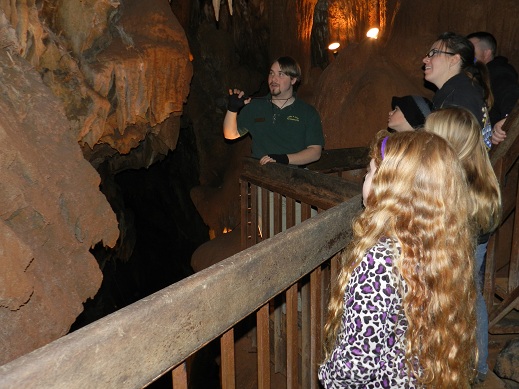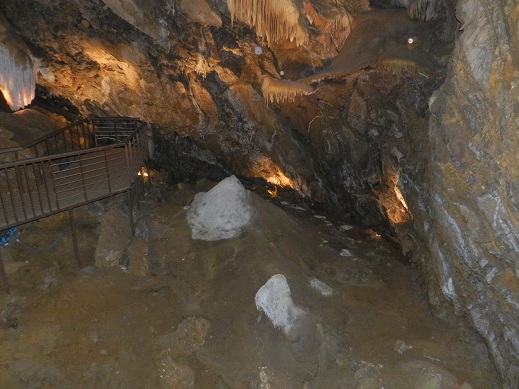 3rd Stop
Zen Garden Hike

We decided to hike last so that we could take our time exploring but you could opt to do it before taking your cave tour since the Zen Garden Hike is just passed the entrance.  Immediately after driving into the Black Chasm Cavern National Landmark, you will see an inlet on the right-hand side. This trail is not obvious , so look closely at my photos or ask for a map from the Visitor's Center.  Look carefully for a small set of steps next to a large tree that lead you down onto the trail.  There is no sign but when you see those steps you know you are in the right place!  Check out my photos below.  We did not see them right away so I want to make it easier for you.
You DO NOT want to miss this hike.  Hands down our favorite kid-friendly nature trail in our adventures so far!
The Zen Garden Hike is made up of a landscape of standing stones that are fun to navigate through and very impressive.  I've never seen anything like it.  The kids and I were giggling and "wow-ing" our whole way through.  There were parts that were a little steep and narrow but it was just enough to feel more adventurous than the flat nature trails we usually walk.
Doesn't it look beautiful?!
Our new favorite DAY TRIP…seriously!  You've got to try it!
Tips:
Bring good directions but do not stress.  Since I had never driven to this area before, I brought both Mapquest directions and my iphone map to make sure I didn't get lost.  I noticed the directions differed and I sort of used them both together.  Once I was in the general area, there were many signs to lead the way.
Bring a picnic lunch to eat at Indian Grinding Rock State Historic Park!  Keeps your costs to a minimum and gives you more time to enjoy the outdoors.
Dress in layers but don't worry about the cave being a different temperature than outside…it felt pretty much the same to us.
Talk to your kids about the rules of the cave beforehand to improve the experience, especially your real little ones.  You cannot touch the walls and everyone needs to take the stairs carefully, holding onto the rail.
Backpacks and purses are not allowed in the cave, so be sure to leave them in your car while you take the tour.
If you can take the tour on a weekday, there are less people and it's easier to see everything and hear the tour guide.
Locations, Hours, and Prices:
Indian Grinding Rock State Historic Park
14881 Pine Grove-Volcano Road
Pine Grove, CA 95665
(209) 296-7488
Indian Grinding Rock State Historic Park
Park day use Hours: Sunrise to Sunset
Museum Hours: Friday through Monday; 11 am to 3:00 pm
FREE entrance to museum
$8.00 Parking Fee per vehicle
Black Chasm Cavern
15701 Pioneer Volcano Road
Volcano, CA
209-736-2708
Open daily. Tours run throughout the day on the hour.  First tour leaves at 10am, last tour leaves at 4pm.
All ages, with babies in FRONT packs only. Under 3 is free.$14.75 Adults, $7.50 Kids (ages 3 – 12)
Coupon for $2 off Adults and $1 off Kids available on their website.  Click here for COUPON.
Click here to get in FREE for your birthday!
Zen Garden Hike
Located inside Black Chasm Cavern park.
See my photo of the map above or get one at the Visitor's Center.
FREE
Category: Day Trips, Fall, Fall Favorites, Hiking, Outdoor Activities, Reviews, Spotlight