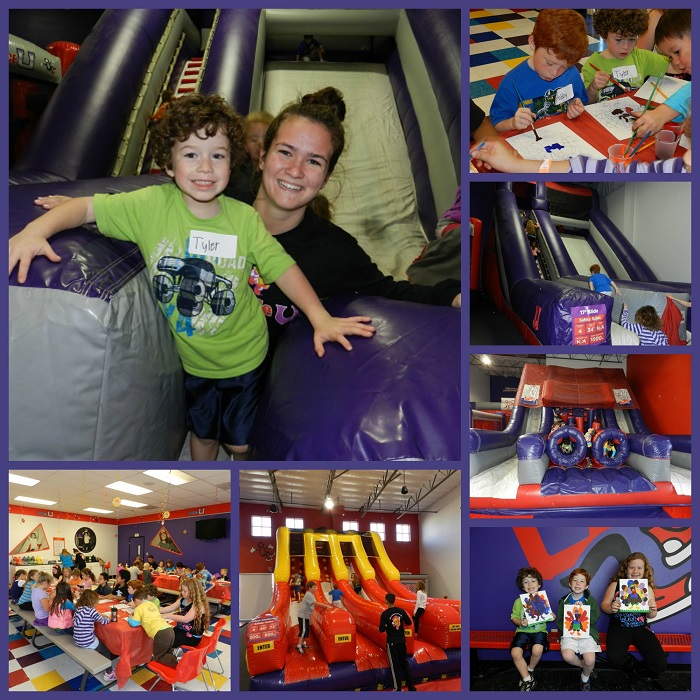 I have so much to tell you about!
-My kids' experience at BounceU's Thanksgiving Camp
-Discount if you want to sign up for Wednesday or Friday of this week
-Black Friday Drop & Shop
-Winter Break Camp
Yesterday, I took my kids to BounceU's Thanksgiving Break CREATE & BOUNCE ART CAMP. We were greeted by the super-friendly staff, music was playing, kids were gathering, and my five-year-old ran up to me to give me the biggest squeeze and say, "Thank you, mommy!" That was before he even did anything! What a clear sign that BounceU knows the details that create an amazing experience from start to finish!
After the rules were explained ever so nicely, the kids headed to the first bounce room so that they could immediately do what they were most anxious for…jump and play! They had a ball being loud and crazy on the 17′ Slide and giving the Uphill Challenge their all.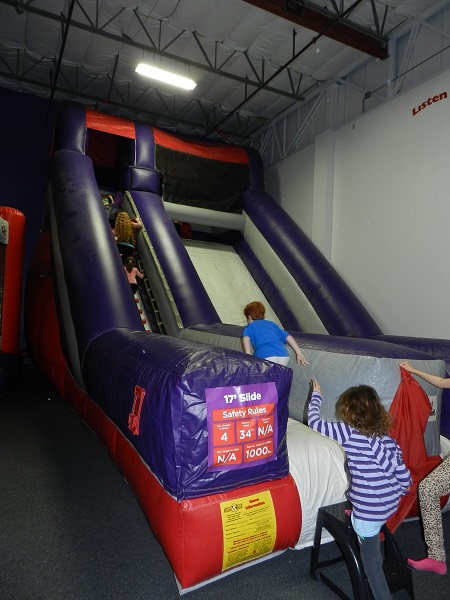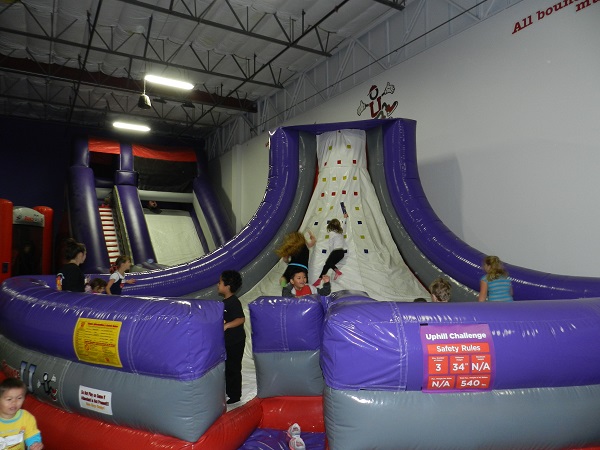 Next, they were off to the second bounce room for even more fun. The counselors were right there for any kids that needed help getting up the Vertical Rush obstacle course or were nervous about going down the slide. Those counselors don't just assist a little…they PLAY WITH the kids! They run around and get them excited and make sure they are having fun. I saw a girl sitting alone on a chair and in no time one of the staff was sitting next to her finding out what was wrong and offering to play with her. In no time, she had joined the other campers on the play equipment. To say I'm impressed with the level of energy and enthusiasm these young adults have is an understatement.
My shy seven-year-old was encouraged on the Triple Challenge climb until he finally made it up all by himself. Then he received high fives as he slid down and finished. Love it!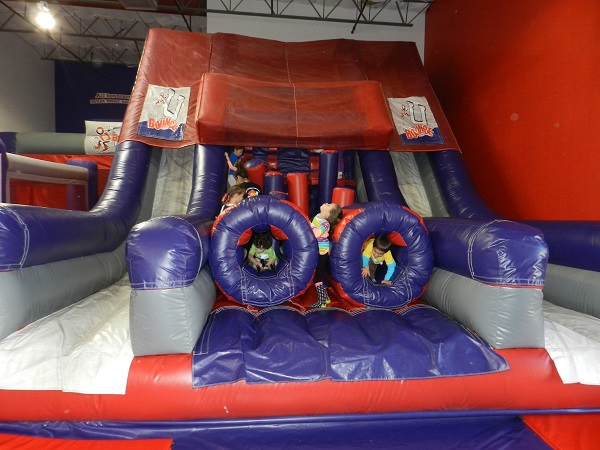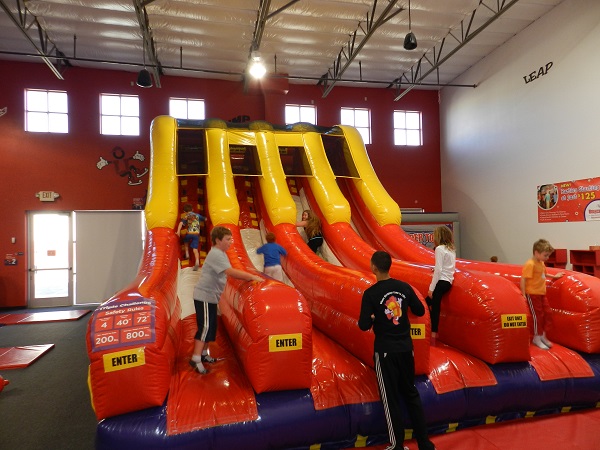 After the kids got quite a workout, they went back into the party room for snack time and art time!
BounceU has a different project planned for each day this week and yesterday's was a turkey painting on canvas. The process was great and one I hadn't seen before. The kids were given a turkey coloring page that they turned over and colored the entire back of with a black crayon. It was then flipped back over and taped onto a canvas. They traced the turkey with a pencil which made the crayon rub off onto the canvas. So when the coloring page was lifted off the canvas, there was a turkey drawing for them to paint!

The end result was awesome and my kids are so proud that as soon as we got home, they displayed those paintings proudly on our mantle!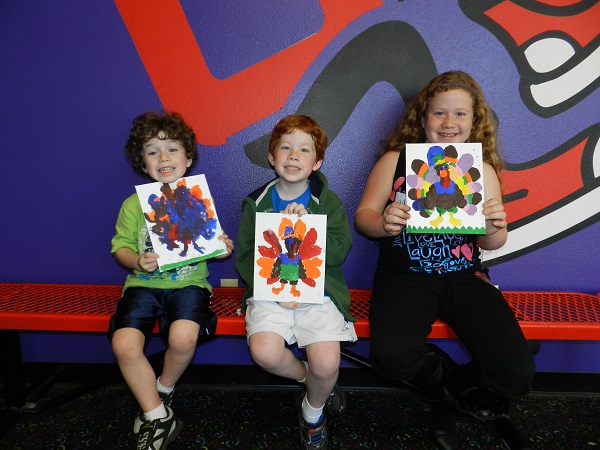 All the way home, they chattered about the other fun things they did after I left. Major highlights were watching the Disney movie "Up" while they ate lunch and searching for turkeys in the cosmic glow-in-the-dark bounce room!
They were so excited that they got to return today! I cannot wait to see the art projects they created when I pick them up this afternoon and find out what other fun things they experienced. Just FYI, we drive to the Rancho Cordova location from the Pocket-Greenhaven area of Sacramento, which means a 30 minute drive, and it was well worth it to me! So if you are not in the Rancho Cordova or Roseville areas, I would still recommend considering it due to the quality of the experience.
I am thrilled that my kids have had active, stimulating fun for the first two days of our Thanksgiving break from school!
STILL TIME TO SIGN UP for one or both of the remaining days of Thanksgiving Camp (Wednesday, November 27th and Friday, November 29th) this week and you have to see this Black Friday offer:

Special early drop off on Black Friday (Nov 29)!
Drop your child off to camp as early as 7 am on Friday, Nov 29th and hit the big sales!
Cost for the Black Friday early drop off is $10/child includes breakfast (muffin and juice) and PJ bounce!
NOTE: Advance reservations required.

Art Camp (ages 4-11)
Offered at BounceU's Rancho Cordova or Roseville locations
BounceU's Create and Bounce is a camp program for kids ages 4 – 11 that give children a daily balance of playtime and artistic expression. Our carefully developed curriculum includes theme-based lesson in drawing, painting and sculpting using medium like oil and chalk pastels, watercolors, mixed media, and more. It's everything a young artist needs to grow!
Time: 9:15 am – 2:15 pm; FREE early drop off available starting at 8:30 am.
Additional after camp hours (until 5:30 p.m.) available for modest additional charge, ask for details.
Cost: $45/child for each day, $39 for sibling (see below for Sidetracks DISCOUNT)

Tech Camp (ages 7-13)
Offered at BounceU's Roseville location
Only at the Roseville locationBounceU's unique Technology Camp features Robotics with LEGO® Mindstorms® and LEGO® Stop-motion animation. Learn to design, build and program robots! Campers ages 7 – 13 will work both individually and in small teams (2-3) using the Mindstorms® Robotics Kit* and participate in the various fun challenges.
Time: 9:15 am – 2:15 pm; FREE early drop off starting at 8:30 am. After camp hours (until 5:30 pm) available for modest additional charge, ask for details
Cost: $49/day, $45 for sibling (see below for Sidetracks DISCOUNT)
**Exclusive Discount for Sidetracks Readers**
If you mention "Sacramento Sidetracks" you will get the sibling price for
Thanksgiving or Winter Break Day Camp! (Must mention at time of enrollment.)
WINTER BREAK CAMP will have the same options (Art Camp & Tech Camp) as you see above. It will be offered December 23, 26, 27, 30, 31 and January 2 & 3.
Details on how to enroll at either location:
Rancho Cordova
Roseville location