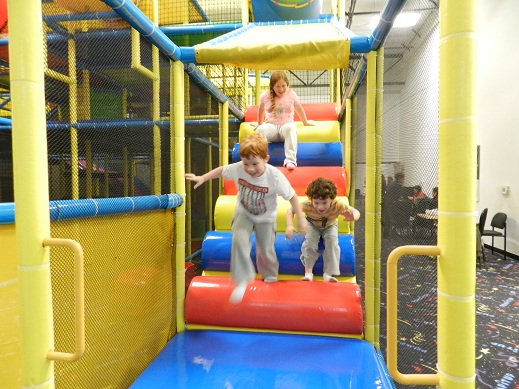 On a very rainy day a couple of weeks ago, my kids were going stir crazy. It had been raining all week and they were in desperate need of exercise. CRAZY CLIMBERS TO THE RESCUE! My kids spent 3 hours getting totally worn out!
Here are some of the many reasons I am confident you are going to be a Crazy Climbers fan:
Unlimited play time

Open Play ALL DAY on weekends

Contained indoor playground

Allow you to bring your own snacks and drinks

Play structure big enough/strong enough for adults

Your kids will get the exercise they need
Crazy Climbers is an Indoor Family Fun Center in Roseville that just opened up in October. Their focus is strength, mobility, and exercise.
My kids climbed through the three levels of this gigantic play structure and slid down the tube-twist slide, the tunnel slide, and the wave slide. There is also a second room with an inflatable obstacle course, castle slide, and a foam shooting arena. They would run back and forth between the rooms but spent the majority of their time on the playground, which they all agreed was their favorite. These happy kids were running, climbing, jumping, and sliding…and I had the biggest smile on my face to see them getting exactly what they needed.
For those of you with babies and toddlers, they even have a little area for your smallest ones to have their own fun.
A feature that sets Crazy Climbers apart is their hand pedaled train! Not only do they have kid size train cars, but adult sized ones, tool! Fun! The last big storm caused water damage in the train area and so we did not try them out on our visit but they are busy fixing the issue so they can re-open that area this Saturday.
Parents, you'll also love this little tidbit: Crazy Climber's equipment was treated with an antibacterial substance during the manufacturing process that means that the shiny clean is there to stay! On top of that, they do a detailed cleaning every night. Very nice!
Since my kids are 9, 6, and 4-years-old, I was able to sit back and enjoy watching them play. They have tables and chairs for parents and free Wi-fi which is always great when your kids are able to play without you. It was easy to supervise them since the playground is contained and made for a relaxing experience. If you have kids that are a little younger and need a boost here and there or help navigating the structure because they are a little nervous in the beginning, you can rest assured that this playground can handle adults as well. It is large enough and strong enough for adults to play on and I have to admit that I was a little bummed out that I didn't wear sweat pants and get in there with them. Next time, I'm getting on that wave slide, too!
Love this brand new play spot! They opened at the absolute perfect time of year when most of us are searching for places for a dry, warm place for our kids to get their wiggles out!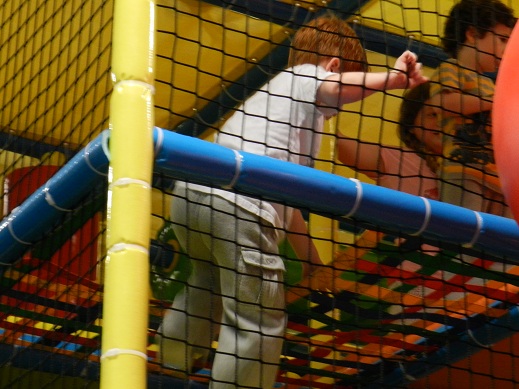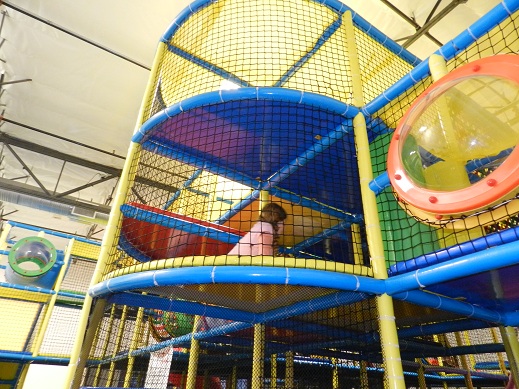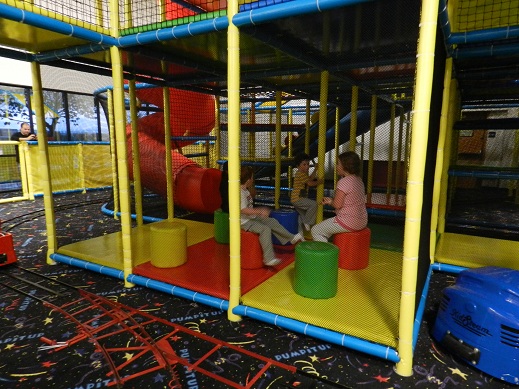 Look at how sweaty they were! THAT was a fun workout!
Tips:
-Wear comfy, stretchy clothes that you can really play in. I recommend short sleeve shirts for kids because they get sweaty!
-Remember to wear socks as they are required.
-Call ahead to double check that there is not a private party booked.
Open Play Hours:
Monday – Friday 10 am – 6 pm
Saturday 10 am – 7 pm
Sunday 11 am – 6 pm
They MAY be closed during private rentals of their building. So please call us at 916-791-4554 to confirm hours.
Cost:
$8.00 Kids 2-17
$5.00 Kids under 2
Adults and kids Under 1 are Free
Birthday Party Info:
Click here
Crazy Climbers
10556 Industrial Ave.
Roseville, CA  95678
(916) 791-4554
[Giveaway now closed. Congratulations to our winners…Heather W. and Kim F.!]
Win a Five Visit Open Play Pass! (2 Winners!)
Crazy Climbers has generously offered us 2 Open Play Passes that are each good for 5 visits! So we will be choosing 2 lucky winners for this giveaway. If you win, we will mail your pass ASAP so that you can use it during Winter Break, if you'd like!
How to enter:
1. Click here and 'Like' Crazy Climbers on Facebook.
2. Leave a comment below letting us know that you did #1 and why Crazy Climbers looks like a place your kid/s would like to play. (Please include your last name initial in case there is more than one entrant with same first name.)
These 2 things count as 1 entry. 1 entry per person. The giveaway will close on Saturday, December 22nd at midnight. The winner will be chose using random.org and announced Sunday morning. Good Luck!
Category: Uncategorized