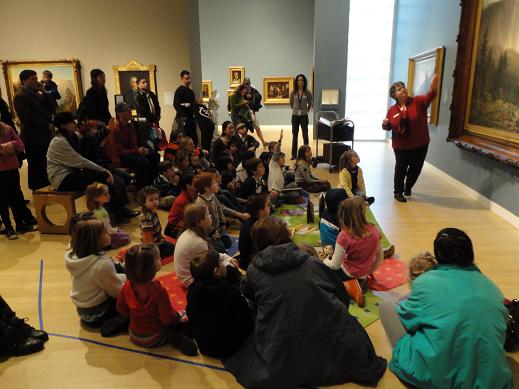 If you are up for a Museum Adventure for Families, the Crocker Art Museum holds an event called Drop, Yak, Splat! every second Saturday.  Each month a different work of art is chosen to provide inspiration for a stimulating gallery experience for families and children of all ages.  As fans of the Crocker, we anticipated a great experience for OUR whole family when we went to check it out.  We were not let down!
We followed our teacher, Lydia, through the museum until we reached an oil painting by Thomas Hill called the Great Canyon of the Sierra, Yosemite.
Drop – First, the kids plopped down on colorful rugs and made themselves comfortable.
Yak – Lydia introduced the painting, talked about the artist, described what landscape art is and asked the kids questions.
Splat – Then it was time to create their own works of landscape art inspired by the painting.  The kids were all given their own "easel", paper and colored pencils.  They were encouraged to use their imagination and have fun with it.  This was the most enjoyable part for them!
When the event was over, we wandered the galleries.  As usual, the kids pointed out and got excited about works of art that caught their fancy.  I am always surprised and enthused that they enjoy an art museum!  My seven-year-old and 4-year-old ask lots of questions like, "How did the artist DO THAT?", and my two-year-old excitedly finds animals, shapes, and colors in paintings or sculptures.  All in all, it was a culturally fun weekend outing for our family!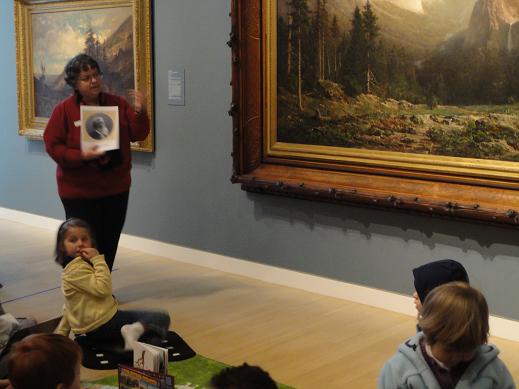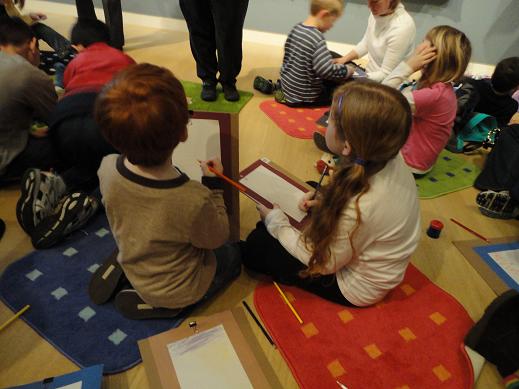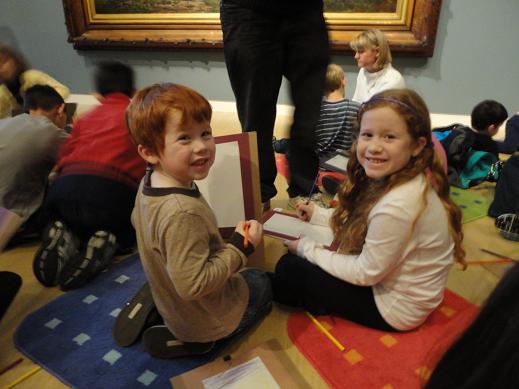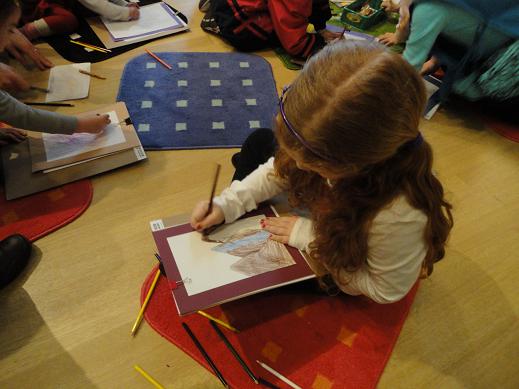 Drop, Yak, Splat! is held on the second Saturday of each month.  Click here for the Crocker's calendar.  You can sign up at the front desk up to an hour before it starts.  Meet the teacher and the group near the white leather benches just inside the Court area. There will be a sign that says "Drop, Yak, Splat".
Ages: Recommended ages 5 and up, but the whole family is welcome.
Price: Included with general admission.  Admission is $10.00 Adults, $5.00 Youth 7-17, Kids 6 and under FREE.
Parking: On-street parking meters bordering the Museum and Crocker Park require quarters.  A small parking lot is available and costs $1.50 per hour with an atm/cash meter machine.
Tips: Before or after the event, wander the galleries!   The museum is open from 10am-5pm.
It's GIVEAWAY time!
[Giveaway now closed]
The Crocker Art Museum has generously offered Admission for 2 Families for Drop, Yak, Splat! on Saturday, April 9th.  Yes…TWO winners!
To enter to WIN, all you need to do is the following 2 things:
Click here and "Like"

Sacramento Sidetracks

on Facebook.  If you already do, then clickhere to "Like" the Crocker Art Museum on Facebook.

Leave a Comment

on this post letting me know whether or not your kids have experienced the Crocker yet.
Doing these two things counts as one entry.  One Entry per person.
You have until Sunday, April 3rd at midnight to enter.  The two winners will be chosen using Random.org and will be announced on Monday morning.  Good luck!
Crocker Art Museum.
216 O Street
Sacramento, CA 95814
916.808.7000
Category: Giveaways, Indoor Activities, Museums, Rainy Day, Reviews