THIS is how we celebrated the last day of school…an afternoon at Derr-Okamoto Community Park! I picked the kids up from school, had them immediately change into their bathing suits and we took off! The JUNGLE THEMED sprayground and play structure had them giddy with excitement!
It takes us about 25 minutes from where we live to drive to this park and I can tell you, it's worth the drive! We spent almost four hours there and the kids had a memorable day!
Why the kids love it:
Jungle theme – super cute!
The playground has several newfangled elements that are unique and exciting.
Why I love it:
A majority of the playground has rubber flooring so the kids can run back and forth between the water area and play structure with just their flip flops.
With so much to do here, my kids got a ton of exercise.
Although the park has so much to do, it is all close together so you can view the kids at all times from anywhere you sit.
The entire park, including the restroom, is very clean.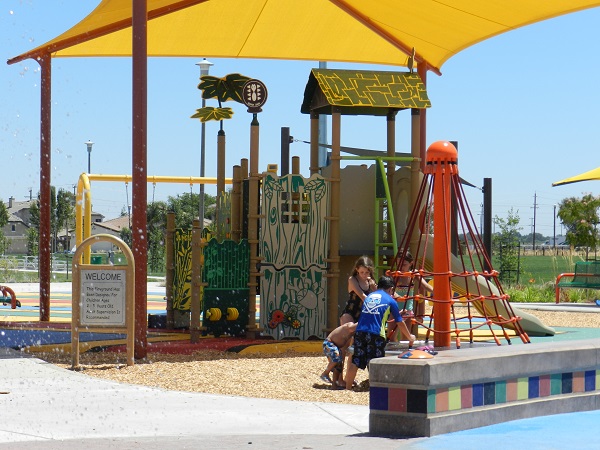 Amenities:
sprayground
BMX/Skate elements
picnic area
shade structures
basketball
soccer field
jogging trail
adult fitness equipment
swings
restroom
barbecue grills
Tips:
While there are lots of shaded picnic benches, there is not always shade available on the grass, so bring an umbrella or canopy on a hot day.
Bring a picnic lunch or dinner and spend hours here!
Water Hours:
10am – sunset Daily
Derr Okamoto Community Park
9550 Mainline Drive
Elk Grove, CA
For a complete list of SPRAYGROUNDS in Sacramento, click here.
Category: Blog, Free, Spraygrounds, Summer