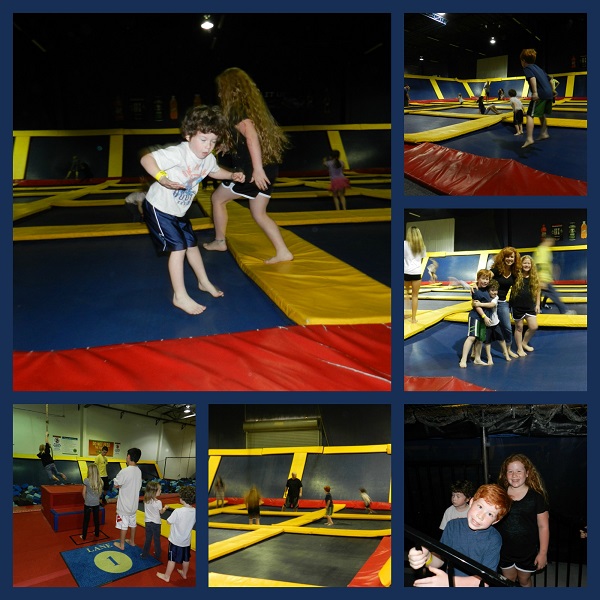 Last Sunday turned out to be a great family day. We spent the morning at home being lazy as we recovered from a Saturday filled with three soccer games and a birthday party. Then we headed out to Sky High Sports in Rancho Cordova in the afternoon for some exercise and play time.
Sky High is always the perfect place for our entire family to have some active, indoor fun together! We have been there many times and just love bouncing on their gigantic trampolines, playing dodgeball and jumping into the foam pit! My husband and I enjoy both seeing our kids having a blast and feeling like kids ourselves.
While I was watching my youngest swing on the rope into the foam pit, I met a Sidetracks reader who was there with her young kids for a birthday party. She had not yet discovered that there was a Little Jumpers Court and so I was excited to let her know that I thought it would be the ideal spot for them. Our conversation got me thinking that it would be fun to take you all on a tour of Sky High's different areas.
Here we go!
This is the MAIN COURT…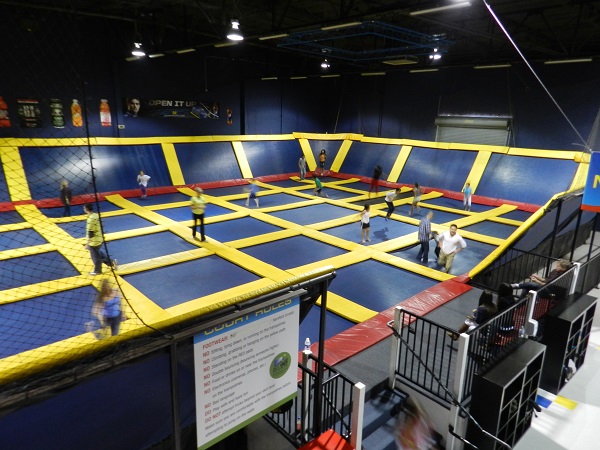 Kids and adults can jump together here. You can even do flips or be entertained by those doing flips. You can literally bounce off those walls! My husband, kids and I have a ball in this area (and immediately feel our whole body getting a workout!).
This is the LITTLE JUMPER'S COURT for ages 8 and under…
This is where your little ones can jump with no worries. No one over the age of 8 can jump here. If you have a toddler or preschooler that needs help, you are allowed to walk on the trampolines – just not jump. You can also stand on the court and hold your child's hands while they jump. There are chairs on the side for parents to sit and watch.
Here's the DODGEBALL COURT for ages 8 and under…
I love this video of my sons (ages 5 and 7) playing dodgeball. They are so focused on getting each other! As you can see, the balls don't hurt, they do not have to leave the court when hit, and this game remains fun for all the kids! This is now my boys' favorite spot.
This is the big DODGEBALL COURT…
It tends to be a little more competitive than the Little Dodgeball Court but again, the balls don't hurt and it's all in good fun. In this game, when hit by a ball, you do leave the court and last one standing is the winner. This area is so popular that there is typically a line but it moves pretty quickly.
Here's the FOAM PIT…
You can jump, flip…or swing by rope into that Foam Pit! It is pretty cool to see an activity that kids, teens and adults find exciting!

This is the SNACK BAR/ARCADE area…
If you have older kids or teens then you'll love the upper deck where you can sit on a couch, use free wi-fi and look out over all of the trampoline courts, snack bar and arcade!
Let me just tell you, kids get ALL their energy out! Just as every time we've been to Sky High, our family had so much fun on Sunday playing together and got exercise at the same time. Got to love that!
A few tips:
When you go to Sky High for the first time, you need to fill out a liability waiver for each member of your family that will be jumping. You can download the waiver online to save time or you can fill it out on their lobby computer when you arrive.
No shoes or socks when you jump – just bare feet (or they sell special grip socks at the front desk). There are cubbies outside the trampoline courts to store your shoes while you jump.
Jump time is sold in one hour increments and jumpers get a wristband with their ending time on it. If you have younger kids, 1 hour is the perfect amount of time. If your kids are tweens or teens, they will most likely be ecstatic to have 2 hours.
Where comfortable clothes! My kids wear athletic shorts and t-shirts so that they can move well and avoid getting too hot while playing.
Admission: $12/per hour, $6 for 2nd hour
[update 1/20/16 – Sky High grip socks are now mandatory. If you already have a pair, bring them! If not, they can be purchased for $2 each. They are machine washable and reusable. Make sure to bring them back otherwise you will need to purchase them again.]
My favorite Sky High WEEKLY SPECIALS:
Munchkin Monday
Monday Mornings from 11am – 1pm
Toddlers 6 and under jump for just $6.00!
Family Night
Thursday Nights between 5-9pm
Just $35.00 = Jump Time for a Family of 4, a Large Pizza and 4 bottles of water!
Sky High Sports
11327 Folsom Blvd. #160
Rancho Cordova, CA 95742
916-853-5867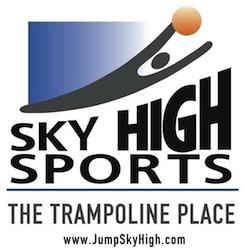 Category: Blog, Indoor Activities, Rainy Day, Reviews, Spotlight