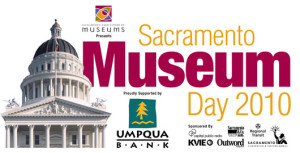 It's here!  One of the most fun days of the year in Sacramento!  This Saturday, February 6th is Sacramento's 12th Annual Free Museum Day.  The museums will all be open from 10 am to 5pm (last admission at 4pm).
Take advantage and visit museums you've never been to or revisit your favorites!
Here's a list of all of the participating museums:
Aerospace Museum of California
California Automobile Museum
California Foundry History Museum
California State Military Museum
California State Capitol Museum
The California Museum
California State Indian Museum
California State Railroad Museum
Crocker Art Museum
Discovery Museum Science and Space Center
Explorit Science Center (Davis)
Fairytale Town
Folsom History Museum
Governor's Mansion State Historic Park
Heidrick Ag History Center (Woodland)
Leland Stanford Mansion State Historic Park
Museum of Medical History
Old Sacramento Schoolhouse Museum
Old Sacramento State Historic Park
Sacramento Zoo
Sacramento Historic City Cemetery
Sacramento History Museum
Sojourner Truth Multicultural Arts Museum
Sutter's Fort State Historic Park
Wells Fargo History Museum (Old Sacramento and Downtown locations)
Click here for more details and tips from the Sacramento Museum Guide.