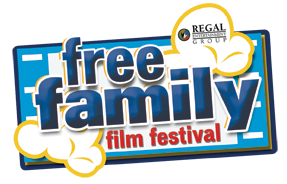 Regal Cinemas is offering FREE  movies during their Family Film Festival!  It starts this week and runs through August.  All movies will be G or PG.  There is a wide range of movies…so you'll be sure to find ones that are perfect for your kids.  We can't wait to go see Monsters vs. Aliens and Cloudy With A Chance Of Meatballs on the big screen.  Films are shown at 10:00 am every Tuesday and Wednesday during the festival.
Everyone loves free stuff.  So if you're planning to take the kids to a free or cheap showing, be sure to get there early. Many summer movie programs are run on a first-come, first-serve basis.  You can also be prepared for regular prices for popcorn, soda and candy at the concession stand.
Click here to see the movie schedule.  Locations include El Dorado Stadium 14, Olympus Pointe 12 in Roseville, Natomas Marketplace Stadium 16, Market Square 6 on Arden, and Laguna Village 12 in Elk Grove.
If a Century Theatre happens to be more convenient for you…they are offering $1.00 movies this summer.  Click here to see the movie schedule and locations.
Going to the movies will be a great way for kids to spend a weekday morning in the summer!