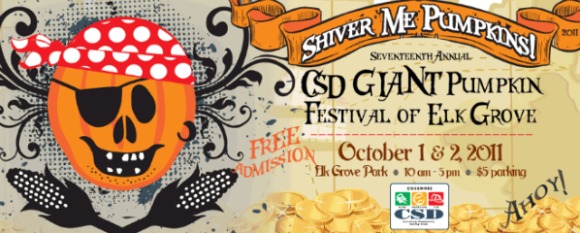 Arghhh! The pirates have set sail and are approachin' the shores of the 17th Annual CSD Giant Pumpkin Festival of Elk Grove.
This weekend Elk Grove's largest family event returns with a theme that's puttin' pumpkins and piracy together for family fun. Captains, first mates and scallywags of all ages are invited to run aground at Elk Grove Regional Park!
The theme is supporting the construction of a new playground on Pirate's Island at the park!
"Shiver Me Pumpkins!"
Feast yer eyes upon the great orange orbs as they hit the scales Saturday morn. The giant pumpkin weigh-off returns on Saturday. Can a new California record be set? It happened last year at this very event. And the lucky Jack with the heftiest pumpkin will take home treasures valued at $6/lb.
Oh Buoy…the Pumpkin Boats are Back!
Sunday will feature the 5th annual Pumpkin Regatta, a fierce boat-like competition featuring the giant orange orbs and some brave souls who will attempt to row them across Strauss Lake. Captains will assemble their entries beginning at 11 am. The race to the planks commences at Noon. Winner takes home $250 and a commemorative pumpkin oar.
Releasing the Kraken…
Carnival games, a pumpkin patch, hay maze, petting zoo, and an inflatable sea monster — the Festival will offer activities and attractions that will have the whole family going "Yo ho!"
Music to Soothe Even a Savage Pirate
Entertainment for buccaneers big and small will perform from two Festival stages all weekend long including the surf sounds of southern California group, Safety Orange on Saturday and a puppet show entitled Tommy's Pirate Adventure on Sunday.
More than Just Salt Pork and Average Ship Fare
Naer' a dozen groups will be on hand to satisfy your hunger for festival food including pumpkin treats and fried feasts for the gullet.
When: Saturday, October 1 and Sunday, October 2; 10am-5pm
Where: Elk Grove Regional Park, 8820 Elk Grove Blvd, Elk Grove
Cost: Free Admission; $5.00 Parking; Tickets for kids activities ($1-5 each)
More info: Click here for website and here for flier
Category: Events, Festivals & Fairs