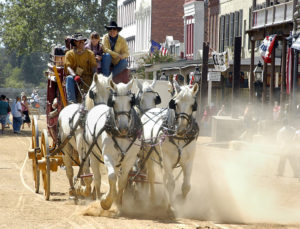 If you are looking for something to do with your family this Labor Day Weekend…Old Sacramento will be the place to be!
Sacramento's 10th annual heritage celebration is scheduled for this weekend.  The Gold Rush Days festival "turns back the clock," transforming Sacramento's historic district into a scene straight out of the 1850s.
More than 200 tons of dirt will be dumped on the streets of Old Sacramento!  Costumed re-enactors, Wild West gun fights, musicians playing period instruments, and many aspects of life during the Gold Rush will be highlighted during the four-day event.  This year the event has expanded the number of ethnic and cultural components.
You will see period artifacts, storytelling, food preparation and more. Dancers and musicians will perform according to long-held traditions. There will be a variety of ethnicities represented that could include European, Hispanic, Asian/Pacific Islander, African American and California Indian.
Admission is FREE and hours are as follows:
* Friday, September 4, 9:00 a.m. to 4:00 p.m.
* Saturday, September 5, 11:00 a.m. to 7:00 p.m.
* Sunday, September 6, 11:00 a.m. to 7:00 p.m.
* Monday, September 7, 11:00 a.m. to 4:00 p.m.
Tips:  Although the event is free, remember to bring money for parking.  The Old Sacramento Garage (2nd & I) and The Tower Bridge Garage (Front & Capitol Mall) will have a special event flat rate parking fee of $8.00.
You might want to plan on enjoying an ice cream or lunch at one of the many cafe's or restaurants…and don't forget to get your FREE salt water taffy at Candy Heaven!  (2 pieces per person!  Across from Joe's Crab Shack on Front Street)
For more information, call (916) 808-7777.
Click here for the event website.  You can see a complete schedule of each day's Live Music, Shoot-outs and Old-West Theatrics.
Category: Events, Festivals & Fairs