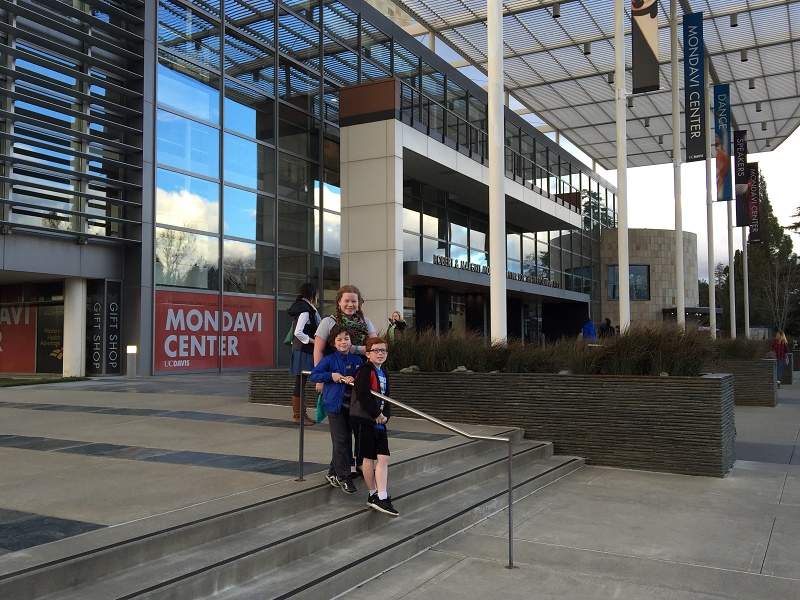 I was recently made aware of the great line-up of family events that the Mondavi Center for the Performing Arts at UC Davis has to offer. It is a classy venue that books quality entertainment!
My kids and I visited in January for the first time to see the Okee Dokee Brothers. It was a fabulous concert! The talented duo's folk music was geared towards children but refreshingly enjoyable for adults as well. Voices I could listen to all day and impressive musicianship. We are fans now and I'm grateful that my kids were introduced to folk music in such a fun way. My 9-year-old also walked away inspired to go on outdoor adventures in the mountains and on water some day due to the personal tales shared by the Okee Dokee Brothers through their music and video footage.
Attending a show at this building was a treat, as it is beautiful inside and out. With all of it's class, it was still inviting for all of us parents with little ones in tow. The kids were even encouraged to get up out of their seats to dance.
Here are Mondavi Center's don't-miss events that are coming right up:
Story Pirates – Sunday, February 28th
San Francisco Symphony/ E.T. The Extra Terrestrial – Thursday, March 24th
When I saw the event listing for Story Pirates, I was intrigued and looked them up right away. Looks like a super fun, unique show! We are going to be sure to go!
The Mondavi Center has generously offered 4 tickets to give away to one lucky reader! So if you'd like to go too, enter to win below!
WIN A FAMILY 4-PACK OF TICKETS TO STORY PIRATES!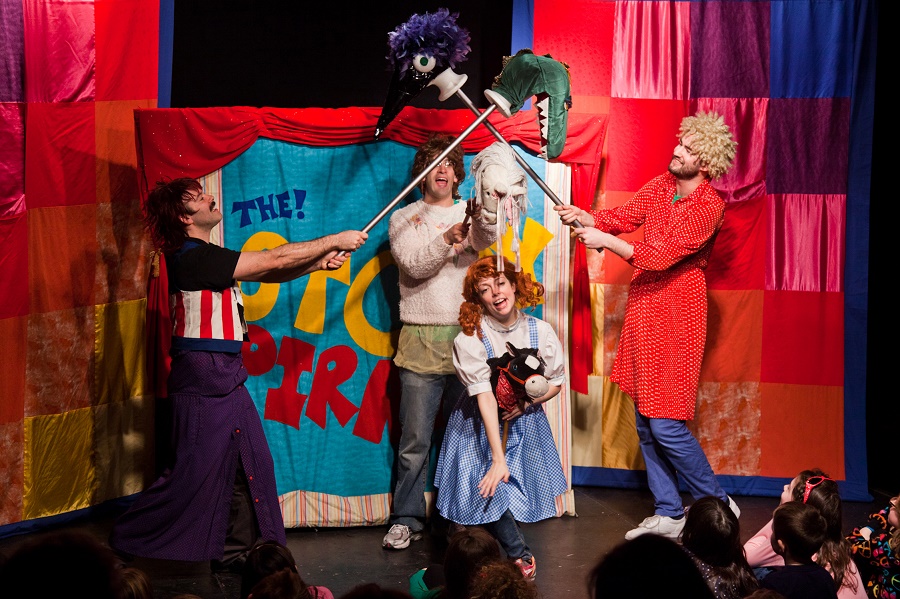 Story Pirates is an infectious, fun-loving group of some of the best improvisers and musicians in New York and Los Angeles. They create musicals based on stories written by elementary school kids!
These incredible performers faithfully bring to life the unfiltered world of children's imaginations. When the curtain rises, cats can fly; hot dogs save the world; fried foods battle dairy foods; and the characters you're likely to meet are Captain Waffles, Moneyhead Alan or Snufflepants. In all, it is a celebration of the powerful link between literacy and self-expression—not that anyone will notice amidst the gut-busting laughter.
You can check out a review of the Story Pirates here on Broadwayworld.com. The author describes the show as being like "SNL for kids". Sounds good to me!
When: Sunday, February 28th; 1pm and 3pm
Where: Mondavi Center at UC Davis
Tickets: Adults $25.00, Children $10.00
[Giveaway now closed. Congratulations to Lina Liu Lee! Thanks to all who entered and stay tuned for another giveaway very soon.]
Here's how to enter to win 4 tickets for the 1pm performance:
Simply leave a comment on this post (or our facebook page Story Pirates post) letting me know if you've been to the Mondavi Center before and that you'd like to take your kids to see the Story Pirates.
Don't worry if your comment doesn't post right away, it is going through a spam filter first. One entry per person. Giveaway ends Tuesday, February 23rd at midnight. The winner will be chosen randomly and announced Wednesday, February 24th. Good Luck! 
Mondavi Center
One Shields Avenue
University of California
Davis, CA 95616-8543
866-754-2787
www.mondaviarts.org