Find Awesome Deals for Your Family!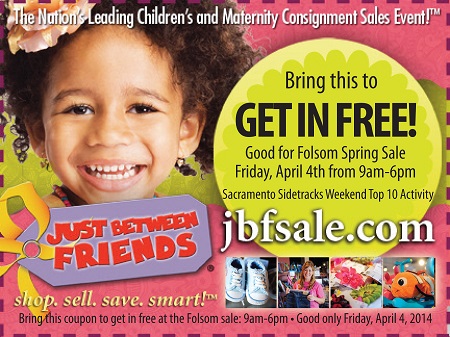 Spring is here and it's time for greater Sacramento area parents to clean out and cash in on their children's outgrown and unused clothing, toys and equipment…and to have some fun and shop for warmer weather at significant savings!
JUST BETWEEN FRIENDS maternity and children's consignment events are a savvy shopper's dream! This Folsom Spring Sale is coming to you Friday, April 4 – Sunday, April 6.
These are not retail stores, but rather savings extravaganzas-shopping events that happen every fall and spring in the greater Folsom area. At these events, consignors bring their new and gently-used children's maternity merchandise to sell. Shoppers can then browse and purchase these items at great savings, far below retail prices. JBF offers shoppers deep discounts of 50-90% off baby gear including strollers, car seats, high chairs, toys, books, games, puzzles, children's outdoor toys, seasonal clothing for baby and kids, maternity clothing and so much more.
They carry brands such as Gymboree, Baby Gap, many designer clothing brands, Little Tikes, Fisher Price, and so many more.
SUNDAY IS HALF PRICE DAY. Get half off already deep discounted prices!
Don't miss out!
If you're interested in selling your items…
Consignors tag their items from home using an online barcode system and make 60-70% of their total sales and they shop before the public.
P.S. Unsold donated items benefit Sacramento Food Bank & Family Services!