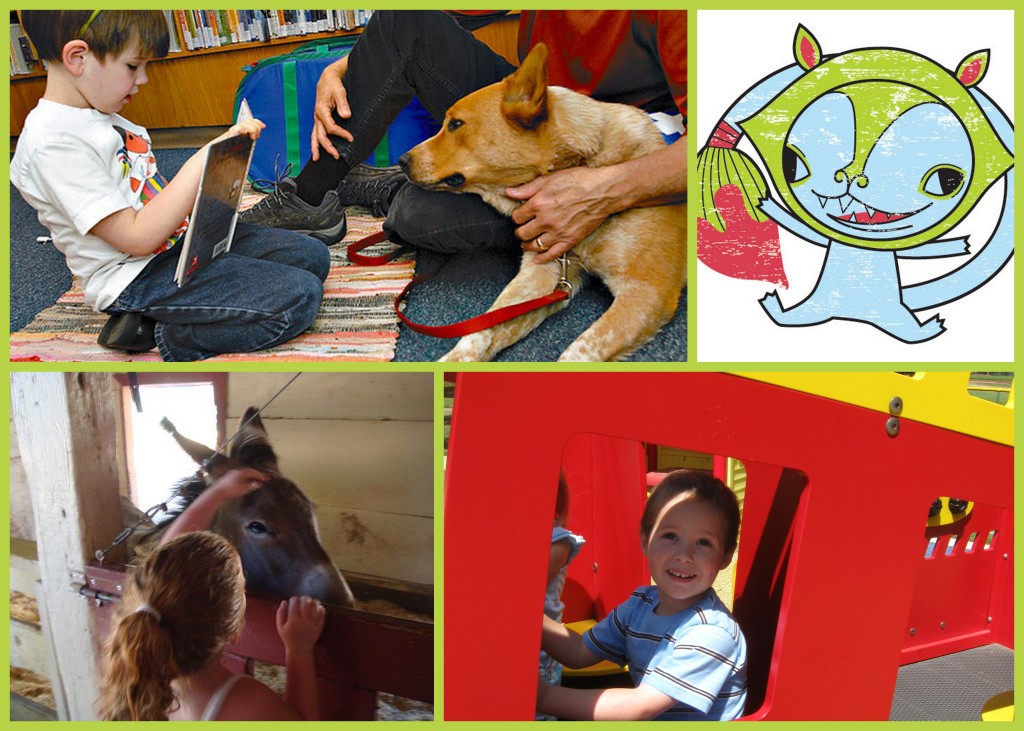 This morning on Fox40, we are live at ArtBeast Studio highlighting great places in the area to take children with special needs! You can catch us at 8:40 and 9:25 if you want to tune in.
Guest Blogger and Sacramento Sidetracks team member, Jennifer Bell, has a child with special needs and not only came up with the idea for the segment, but also put together this awesome list for us of great places to go!
Not every outing is ideal for children with sensory processing disorders, motor skill deficiencies, Autism, and other challenges. If you have a friend or relative with children with similar challenges, this would be a GREAT opportunity to introduce them to our site!
1. Art Beast
When: Open daily from 9am-6pm
Where: 2226 K Street, Sacramento
What: Art Beast is a wonderland for kids with special needs!  On the first floor, those who find imaginative play challenging have the opportunity to use puppets and costumes to work on their "pretend" skills!  The second floor of Art Beast contains a never ending supply of mediums to introduce children with sensoring processing disorders to a variety of stimulus.  Those needing help with fine motors skills can also benefit from the use of clay, sand, glue, and small objects used to create works of art!  Art Beast is often recommended by local occupational therapists as a unique place to enhance your child's skills, as well as for parents and caregivers to be inspired with activities they can do at home!
Cost: $8.00 per person; Children under 1 and one extra adult in family are free
Info: Click here

2. Read to Dogs
When: Weekly and monthly activity
Where: Maidu Library – Roseville, Carmichael Library, Belle Cooledge Library, Elk Grove Library, Galt Library
What: Children who respond to animal therapy will love the Read to a Dog program through the Sacramento Public library.  Docile dogs are available in a quiet environment for children to meet and sit with for story time.
Cost: Free
Info: Click here
3. Hagan Park Petting Barn
When: Saturdays and Sundays; Memorial Day through Labor Day; 12pm-4pm
Where: Hagan Community Park, 2197 Chase Drive, Rancho Cordova
What: Cute red barn run by the Rancho Cordova Girl Scouts.  They usually have a donkey, goat, rabbit, lamb, and chickens. Kids can pet the animals and sometimes even feed them.
Cost: Free
Info: Click here or call (916) 362-1841
4. Meetup Group – Placerville Autism Support and Playgroup
When: Currently have 5 meetups scheduled May – July
Where: Greater Sacramento area
What: "A community of family members and friends dedicated to dealing with Autism and other developmental disabilities, together.  Our goal for the group is to have fun, stress free activities for our children, and have parent activities as well where we can get to know one another and learn new things about treatments, strategies or just everyday practical advice. Our goal is to provide a comfortable environment where you and the children you care for can form lifelong friendships and network in a safe, welcoming, family atmosphere."
Cost: Free to join group
Info: Click here
We did not have time in the news segment to include all of our favorite places, so here are a couple more ideas for fun experiences with your special needs child…
Family Nights for Children with Special Needs
BounceU in Roseville holds a Family Night for children with special needs! This event is offered on first Tuesday of every month for children with special needs and their families.
Click here for more info.
Bouncetown has an Autism Family Bounce Night the first Monday of every month.
Click here for more info.
Sky High holds Special Days 4 Special Needs the first Tuesday of every month. Sky High Sports is open to the public during these hours, but music will be turned off for the comfort of the special guests.
Click here for more info.
Kloss Park in Elk Grove
This park is built with a variety of challenges in mind.  Wide ramps on the playground keep children from feeling too claustrophobic, many play objects are at wheel chair level (including sand pits!), and there are plenty of sensory experiences to touch, swing, and spin on!  The fire station next to the park is also a hit with the kids!
Click here for more info.
~Thank you, Jennifer Bell, for your fantastic insight and ideas!
Category: Uncategorized