A date so many of us have been waiting for is almost here…
the GRAND OPENING of Sacramento's very own Children's Museum!
The big event is Thursday, August 25th with a Ribbon Cutting at 11:00am!

A place where IMAGINATIONS can roam, confidence can GROW, and families can experience the POWER OF PLAY in a safe and welcoming environment.


We were lucky enough to attend a Sneak Peek of the new Sacramento Children's Museum and experience the general rule for children's museums, which is: Please Touch!
My kids all had an AMAZING time!  Upon entering, we immediately found a giant Lite Brite which took me back to my childhood and made me want to play too!  I giggled with the woman at the front desk that after 15 minutes we hadn't even made it passed the entry way because they were having so much fun with it.
The Raceways and Airways were the next big hits.  We learned about gravity and velocity as the kids let balls loose on special tracks and pushed colorful scarves into giant tubes.  My boys agreed that overall, holding boat races in the Waterways was their favorite activity.  My daughter, however, could have spent all day in the Studio of the Arts exhibit where reCreate (one of our favorite spots) has provided wonderful recyclable materials for some cool projects.
Each of the fun areas within the Sacramento Children's Museum focuses on different opportunities for exploration and they are all geared towards children ages 8 and under.  These areas include:
Waterways: This exhibit allows children to experiment with the flow of water, build their own boat, create whirlpools, and more.
Raceways: This exhibit demonstrates basic principles of objects in motion.  Here they can play with velocity, gravity, motion, friction, and acceleration and reveal the secrets behind mysteries like why people don't fall out of a roller coaster when riding upside down.
Airways: This exhibit has open-ended experimentation with objects and pathways.  Visitors can make balls and scarves swoosh through interlocking tubes and discover how objects move through different pathways.
World Market: This exhibit, which includes a child-sized market, helps children develop knowledge about nutrition, sorting, measuring, counting, and cooperation through role-play.  Items in the super market include foods grown locally, as well as, foods from around the world.
Studio of the Arts: The art studio provides opportunities for self-expression and creativity through a variety of materials including recycled  materials, clay, fabric, and more.
My Neighborhood: This area will have a produce stand so that children can learn the value of local produce and healthy eating.  There also will be a small house where children can "cook" and play dress up.
Baby Bloomers: This space is separated from the rest of the exhibits and is specially designed for babies and toddlers to enjoy safe exploration such as dressing up and "planting" flowers.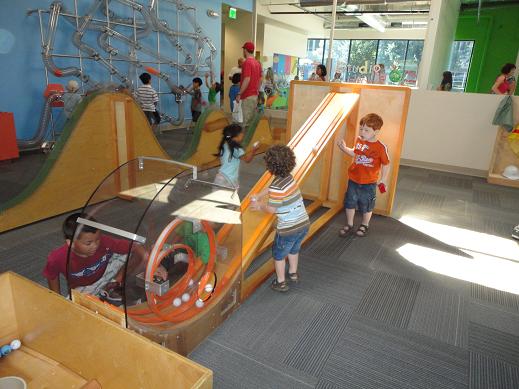 The Sacramento Children's Museum offers Hands-On Learning, Exploration and Play!  It is the vision of a local mom, Kathleen Palley, who saw the need for inspiring learning through interactivity.  The desire in Sacramento to build a children's museum was so great, that the organization quickly grew to include local business-people, children's advocates, educators, physicians, attorneys, librarians, and others. As a group, they embarked on a journey to determine how they could best meet the needs of the children 0-8 years of age, in our community, and the Sacramento Children's Museum is the result.  The Sacramento Children's Museum is a non-profit corporation.
Prices:
General Admission – $7.00 per person
Over 60 and military – $6.00 per person
Under 1 & Museum members – Free
Hours:
Tuesdays – Saturdays 9:00am – 5:00pm
Sundays 12:00pm – 5:00pm
[Giveaway closed – Congratulations to Laura Drath, Latahagina Ketchens, Katrinka Belnap, Amanda Butler, and Felicia Kemp]
Win a Family 4-Pack!
The Sacramento Children's Museum was generous enough to offer FIVE Sacramento Sidetracks readers FREE ADMISSION for 4 Family Members (good for a visit on any day)!

To enter to be one of the FIVE WINNERS, all you need to do is:

1.  Leave a Comment on this post sharing with us why your family wants to win a visit to the new Sacramento Children's Museum.
2.  Click here and "Like" Sacramento Sidetracks on Facebook.
These two things count as one entry.
~ For BONUS ENTRIES, have your friends "Like" Sacramento Sidetracks on Facebook and send me a quick message to let me know.  One entry for every friend that "Likes" us.
You have until Sunday, August 14th, at midnight to enter.  The winners will be chosen using Random.org and will be announced on Monday morning.  Good luck!
Sacramento Children's Museum
2701 Prospect Park Dr. #120
Rancho Cordova, CA  95670
916.952.6852
sackids.org
[mappress]
Category: Blog, Indoor Activities, Museums, Reviews