Stand under a flurry of snow, create holiday crafts and meet Santa at Fairytale Town's WINTER WONDERLAND. Friday – Sunday

Meet Anna and Elsa, then create a winter time art project at Blue Line Arts' FROZEN ART DAY. Saturday

Enjoy Christmas music and a "surprise" visit from Santa Claus at the JINGLE ALL THE WAY HOLIDAY CONCERT. Saturday

Watch "Twas the Night Before Christmas" come to life during the THEATRE OF LIGHTS in Old Sacramento. Friday – Sunday FREE

Craft a bracelet using ultraviolet sensitive beads during MOLECULAR MADNESS at the Powerhouse Science Center. Saturday – Sunday 

See the illuminated landscapes, meet Santa and watch the Circus of Light at GLOBAL WINTER WONDERLAND. Saturday – Sunday 

Take a ride on the Starlight Express and enjoy the music of Christmas carolers at the Folsom Zoo's WILD NIGHTS & HOLIDAY LIGHTS at the Folsom Zoo. Friday – Sunday

Learn all about the Effie Yeaw Nature Center's reptiles at TISSSSS THE SEASON. Sunday FREE

Skate together at a local ICE RINK. Daily

Go on a horse drawn carriage ride, eat treats and take a photo with Santa during SANTA'S SECRET ADVENTURE. Sunday

—->For more holiday events, check out our HOLIDAY GUIDE 2016.
This Weekend Top 10 is sponsored by: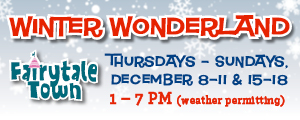 Got last minute Christmas shopping to do?  Can't find a babysitter?
Drop off your princess for a fun time of holiday crafts, dancing, face painting and more! Princess Elsa and the Sugar Plum fairy will be there and the kids will put on a fun holiday show at the end of the day for you!

Category: Blog, Weekend Top 10