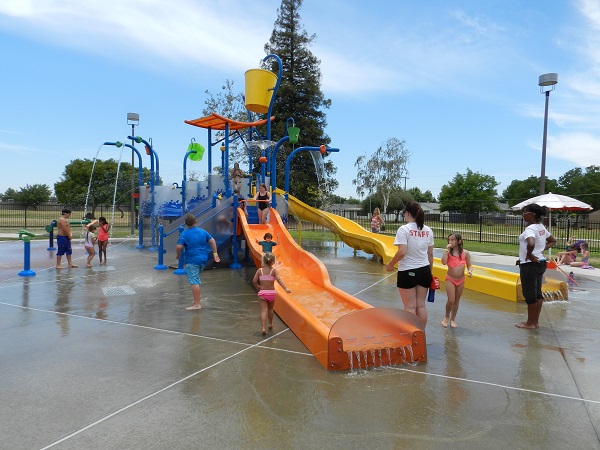 The Best $1.00 Outing Around!
This is the perfect place to go when your kids need to get drenched and you want a cheap outing with the WOW factor!
White Rock Neighborhood Splash Park has an incredible play structure with large dump buckets, canons, water jets…and WATER SLIDES!
This park is SO worth our 30 minute drive to me! Last week I wanted my kids to cool off and have a an exciting outdoor outing without spending much. White Rock splash park fit the bill. This was the first time we had been there since they started charging a $1.00 slide entry fee. I made sure to bring cash and as soon as we entered the park gate, I was able to purchase water slide wristbands for each of the kids from the friendly attendant. Anyone that is not using the slides or does not meet the height requirement is not required to purchase a wristband and can enjoy other splash park areas for FREE.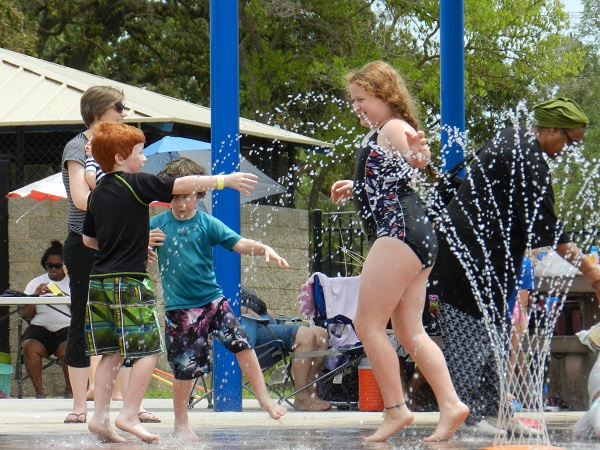 Here are their height requirements for the slides (as outlined by OSHA regulations):

Small Orange Slide: Rider must be at least 42″ or 3ft 6in

Larger Yellow Slide: Rider must be at least 46″ or 3ft 10in

Two lifeguards supervise the water slides at all times for safety. They make sure kids go down one at a time, which is much appreciated by both kids and parents!
Tips
There are a couple of shaded picnic benches but since they are usually taken, I recommend bringing an umbrella. The grassy area is a good place to picnic and close enough to watch your kids as they play, it just doesn't have any shade trees.
Check your kids' heights before you get them all excited about the slides, as the staff member at the gate will measure and is firm on the requirements.
Details
White Rock Neighborhood Splash Park
Address: 10488 White Rock Road, Rancho Cordova, CA
Hours: (updated for 2017) Memorial Day through August 18:
Session 1: Every day 11AM-1PM
Session 2: Every day 2-5PM
Park is closed 1-2PM everyday for filtration
August 19-September 3:
Session 1: Saturdays & Sundays 11AM-1PM
Session 2: Saturdays & Sundays 2-5PM
Labor Day September 4 (Last Day of Season)
Session 1: Saturdays & Sundays 11AM-1PM
Session 2: Saturdays & Sundays 2-5PM
Cost: Splash Park is FREE, water slides are $1.00 fee for wristband (unlimited sliding)
Website: www.crpd.com
More info: Call Cordova Recreation & Park Disctrict at 916-362-1841