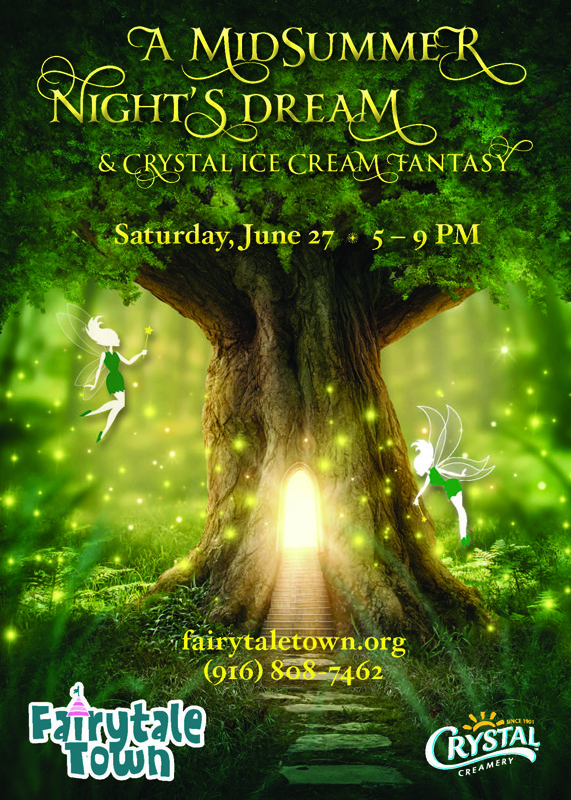 A magical night for the whole family!
Fairytale Town will celebrate Shakespeare's classic fairy play at the park's annual ice cream social event: A Midsummer Night's Dream and Crystal Ice Cream Fantasy on Saturday, June 27, from 5 to 9pm.
"The Shakespeare-inspired festivities combined with Fairytale Town's playful storybook park makes A Midsummer Night's Dream and Crystal Ice Cream Fantasy an evening that adults and children will enjoy,"
said Kathy Fleming, executive director of Fairytale Town.
The enchanting evening features nonstop entertainment for kids and adults, including live music, theatrical performances, fanciful arts and crafts activities, and all the Crystal Ice Cream you can eat!
Sample delicious Crystal Creamery ice cream flavors at stations around the park. Pick up dinner from Squeeze Inn food truck, New Bite Catering food truck, or the Dish & Spoon Cafe. Bottom's Up Tavern will be open with Barefoot Wine and beer from Lost Coast Brewery  available for purchase.
Celtic rock band Tempest will perform throughout the evening on the outdoor Mother Goose Stage, and Shakespeare Lite will present Pyramus and Thisbe from A Midsummer Night's Dream in the Children's Theater at 6, 7 & 8 PM.
Mix 96's Dan & Michelle will emcee the evening as this year's Honorary King and Queen of the Fairies!
My family has attended A Midsummer Night's Dream several times and it is so much fun! The decorations, costumes and music as the sun is going down make for a truly magical event. To top it off, trying different flavors of ice cream throughout the park as we strolled around was heavenly!
When: Saturday, June, 27, 2015; 5 – 9pm
Where: Fairytale Town, 3901 Land Park Drive, Sacramento
Tickets: Advance tickets:$7 for kids (ages 2-12) and $15 for adults, age 1 and under are free
Day of tickets: are $10 for children (ages 2-12) and $20 for adults. age 1 and under are free.
Attire: Renaissance or fairy themed costumes for the whole family are strongly encouraged. Check out Fairytale Town's Pinterest board for costume inspiration.
More information: Visit their website or call (916) 808-7462
Enter to Win a Family 4-Pack of Tickets!
Fairytale Town has generously offered 4 admissions to A Midsummer Night's Dream & Ice Cream Fantasy for one lucky Sacramento Sidetracks reader!
Here's how to enter:
1. 'Like' Fairytale Town on Facebook.
2. Leave a comment below letting me know you did number 1 and why your family would love to go to the Midsummer Night's Dream event. (Do not worry if you do not see your comment show up immediately, each one is spam-checked first.)
1 entry per person. The giveaway will close on Thursday, June 18 at midnight. Entries will be taken from the comments on this post combined with the comments on the facebook post and the winner will be chosen using random.org. The winner will be announced Friday, June 19. Good Luck!