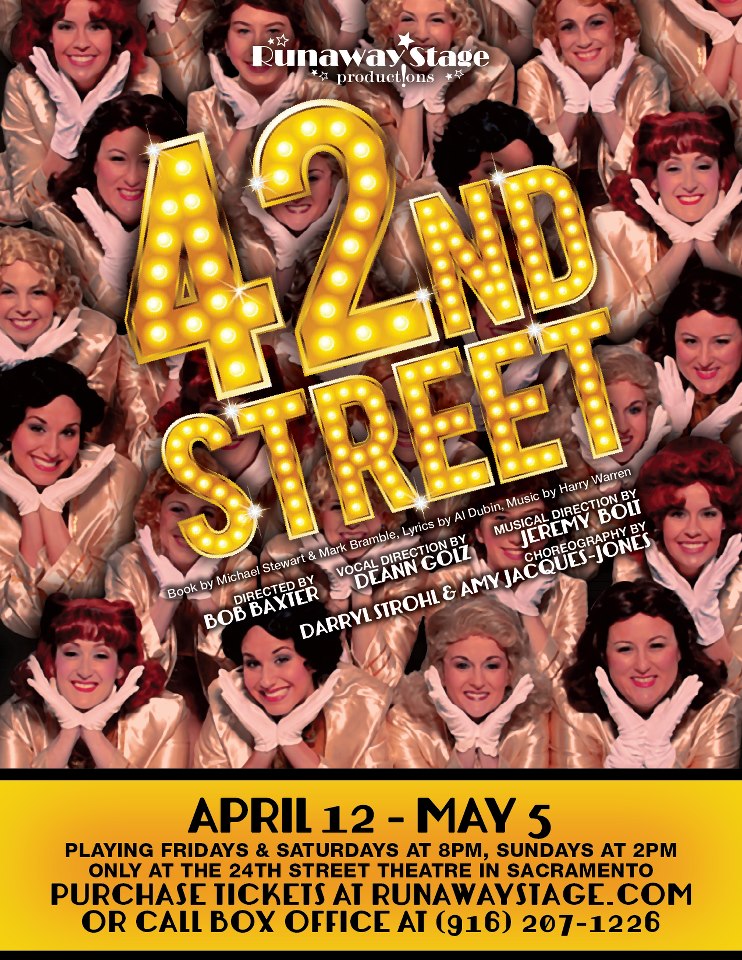 My daughter and I had the best Girls Day yesterday with our friends! We met up for lunch at Cafe Dantorels in Curtis Park and then walked across the street to the 24th Street Theatre, where we saw Runaway Stage Productions perform the musical, 42nd Street.
I've known of 42nd Street and a few of its' famous musical numbers ("You're Getting to be a Habit with Me", "We're in the Money", "Lullaby of Broadway) but have not actually seen the show before so I couldn't wait! Since it is about a young actress auditioning for Broadway, my 9-year-old daughter and her two friends, who are little performers themselves, were very excited!
I am thrilled to tell you that this show was excellent! We were all extremely impressed with the talent. Not only was the acting and singing phenomenal, but the cast blew us away with their "dancing feet"! Between the upbeat music and the energetic cast, we left with the biggest smiles. I was tickled that the rest of the evening, my daughter was recalling favorite parts of the show with me and singing bits of new favorite songs!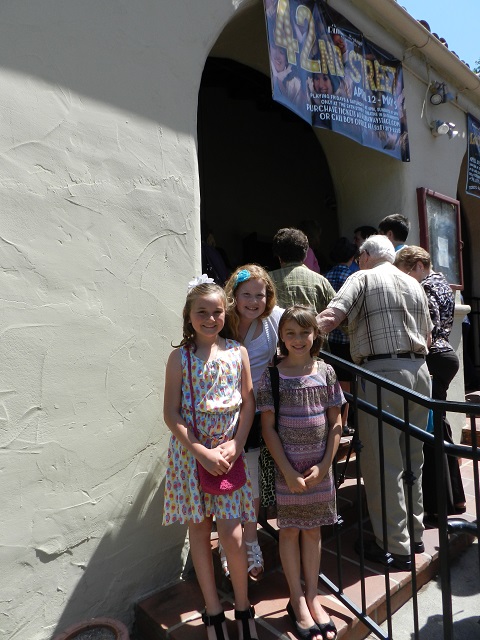 Based on the classic 1933 movie musical of the same name, 42nd Street tells the story of naive young actress Peggy Sawyer who arrives to audition for the new Julian Marsh extravaganza set to open on Broadway starring aging leading lady Dorothy Brock. A classic backstage story, 42nd Street is a delightful throwback that the entire family will enjoy. The 1980 Broadway production won the Tony Award for Best Musical and became a long-running hit. The show was produced in London in 1984 (winning the Olivier Award for Best Musical), and its 2001 Broadway revival won the Tony for Best Revival.
When: Fridays and Saturdays at 8pm, Sundays at 2pm through May 5, 2013
Where: 24th Street Theatre
Tickets: $25 General, $23 Senior, $21 Student, $18 Children under 12; Box Office info
More info: runawaystage.com
**Attention Parents: The show does have mild language and kissing, so please use your own discretion.
Would you like to see 42nd Street, too?
Enter to Win a Family 4-Pack of Tickets!
Runaway Stage Productions has generously offered 4 tickets for one lucky Sacramento Sidetracks reader! The winner will choose which performance they would like to attend.
Here's how to enter:
1. Click here and 'Like' Runaway Stage Productions on Facebook.
2. Leave a comment below letting me know you've done #1 and why you'd like to see 42nd Street at the 24th Street Theatre. (Please include your last name/initial.)
These 2 things count as 1 entry. 1 entry per person. The giveaway will close on Wednesday, April 24th at midnight and the winner will be announced Thursday morning. Good Luck!
Category: Blog, Giveaways, Reviews, Slider List