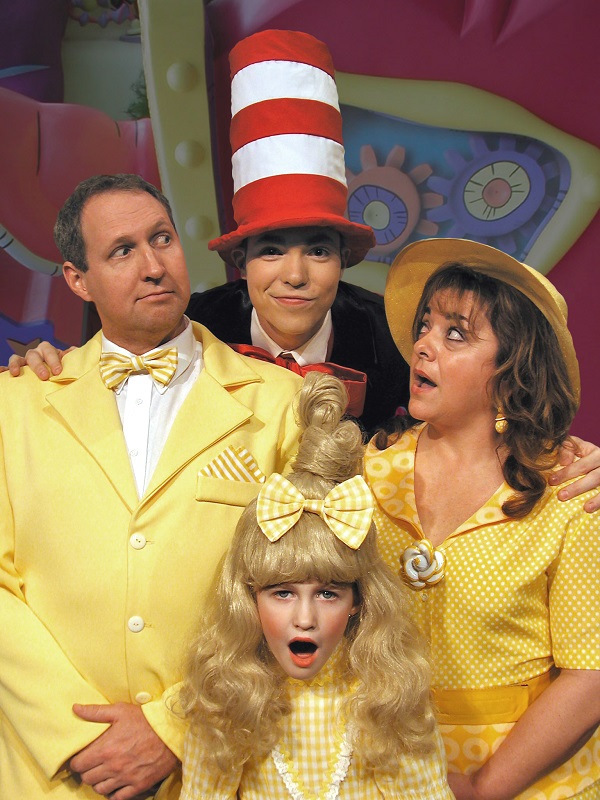 The incredible Cat in the Hat narrates a magical story featuring the very best of Dr. Seuss characters and stories
I am SO excited! Seussical the Musical is coming to Runaway Stage Productions February 28 – March 23 at the 24th Street Theatre. It is the perfect musical for the whole family to see together! This is Runaway Stage Productions' current "Broadway Stage" show which means big talent, live orchestra…the works! Typically, I recommend their "Broadway Stage" shows for older kids and adults but younger ones can sit through and enjoy Suessical the Musical.
"There is Horton the Elephant, Jojo, Mazie, and Gertrude," RSP Producing Director Bob Baxter said. "We have great characters that jump off the page and come to life on the stage. Did you see what I did there? Rhyme?"
Horton discovers a speck of dust on which the Whos live. Among those Whos, the child Jojo finds himself at "butter battling military school" for thinking to many "thinks." Horton's attention to the speck of dust and his "loitering" care of Mayzie LaBird's egg elicits taunting and accusations from the rest of the animal kingdom, except for Gertrude McFuzz, who longs for his attention, and JoJo, whose "thinks" save them all in the end.
"Dr. Seuss has a message that everyone can relate to," Baxter said. "It is a kind, humorous and sincere message."
Runaway last produced the musical with great success in 2005. The new cast will feature Andy Hyun as the Cat in the Hat, Colin Coate as Horton, Caitland Martin as Gertrude McFuzz, Haleyanne Freedman as Mayzie LaBird, Maxwell Freedman as JoJo, Hal DuBiel as the Mayor, and Eduard Arakelyan as one of the Wickersham brothers. Bob Baxter directs, Darryl Strohl choreographs and James Lohman leads the Runaway Stage Productions Resident Orchestra.
When: Fridays and Saturdays at 8 p.m. and Sundays at 2 p.m. 2/28-3/23, 2014
Where: 24th Street Theatre, 2791 24th Street, Sacramento, CA
Cost: Adults – $25; Seniors (60+) – $23; Students/SARTA – $21; Children (12 & under) – $18; Groups of 10+ – $19 each. Tickets can be purchased online at www.runawaystage.com (reservation convenience fees apply) or at the door.
Info: Click here or call the box office at (916) 207-1226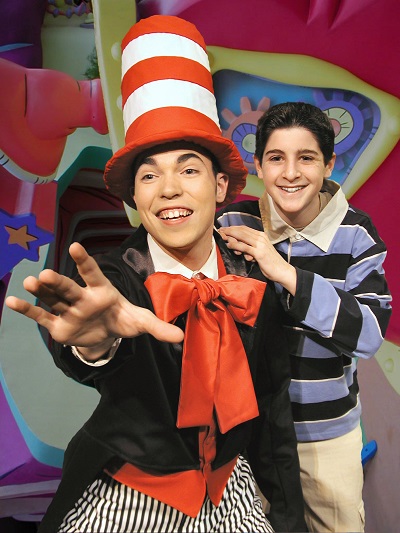 Enter to Win a Family 4-Pack of Tickets!
I am excited to have FOUR TICKETS to offer one very lucky Sacramento Sidetracks reader! The winner will be able to choose which performance they would like to attend.
Here's how to enter:
1. Click here and 'Like' Runaway Stage Productions on Facebook.
2. Click here and subscribe to our Sacramento Sidetracks "Don't Miss A Thing!" e-blasts for discounts, giveaways, and our weekly newsletter.
3. Leave a comment below letting me know you did #1 & 2 and why your family would love to see Seussical the Musical! (I currently have to "approve" every comment coming in, so do not worry if you do not see it show up immediately.)
These 3 things count as 1 entry. 1 entry per person. The giveaway will close on Tuesday, February 18th at midnight, then the winner will be chosen using random.org and announced Wednesday, February 19th. Good Luck!