Bounce Houses
Tip:  Remember that Bounce Houses require the kids to wear socks and will not let them play without them.

2939 Promenade St., West Sacramento, CA
(916) 371-2386
Open Wed.-Fri. 10-6, Summer Mon.-Fri. 10-6
Kids $7.00, Adults FREE
Click here to see our experience at Bounce Spot.
Open Play Sessions:
Our Public Play Times are Mon-Fri 10-4 for the summer months beginning on June 14th. Please visit our calendar for weekend hours, they are usually posted on Friday. Cost is $7 for all ages (crawlers count). Two adults free per family, additional adults are $5 each. Our open play room has a huge 18 ft. slide, 65 ft. long obstacle course, a bouncer with boxing, jousting, volleyball and basketball, plus a fenced in toddler area (inflatable ball pit, toys, books, and so much more) We only allow 40 children during any open play session, it is first come first serve, if we see an issue arise we may break open play sessions into 2 hour blocks.  DON'T FORGET SOCKS!
Family Nights:
3rd Friday of each month:  $8.00 per person.  Includes 3 hours of  bounce time, pizza, salad, drinks, and ice cream.  Reservations are required with full payment. Spots are limited, so call early.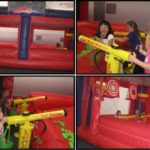 7611 Galilee Road, Roseville, CA
(800) 640-1385
Summer Open Bounce Schedule (June 5th – Aug. 17th):
Mondays: 9:30 (ages 7 and under),
11:00, 1:30, 3:00 (all ages)
Tuesdays: 1:30, 3:00 (all ages)
Wednesdays: 9:30 (ages 7 and under), 1:30 & 3:00 (all ages)
Thursdays: 9:30 (ages 7 and under), 1:30& 3:00 (all ages)
Fridays: 10:00 (all ages), 12:30 (ages 7 and under), 2:00 (all ages)
hey are sometimes open on the weekend if there are no parties.
Sessions are 75 minutes long.
Kids $6.00, 2 and under FREE
Family Night: Wed. 6:10 – 8 PM
$8.95/child, $7.95/sibling
At Bounce U, Children and grown-ups alike almost always experience the "wow factor" when they first get a look at the incredibly cool bounce houses. With their amazing kids' party inflatables, interactive activities, knowledgeable staff, and one-of-a-kind environment, this place really is all about having stress-free fun. Their bounce stadiums are packed with cutting-edge play structures and games that are appropriate for kids from age 2 to 65.

9844 Business Park Dr., Sacramento, CA
(916) 366-9999
Open Mon & Wed 10am – 6pm
Kids $7.00/per child.  Under 2 Free.
No time limit.
Family Bounce Night:
Wed 6:30pm – 8:30pm
Autism Family Bounce Night:
First Monday of every month
6:30pm – 8:30pm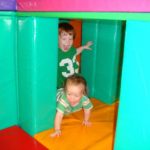 Natomas Location
4421 Gateway Park Blvd. #130, Sacramento, CA
(916) 263-9900
Open Mon.-Thurs. 9:30-5, Friday 10 – 8, Sat. Reserved for parties, Sun. 12 – 4
Kids crawling – age 8 $8.00
Click here to see our experience at Funtastic.
The Funtastic Play Center features an innovative mixture of custom designed and self-contained modular soft play equipment that encourages children's freedom of movement, exploration, and creativity in a playful and carefree setting.  They have a separate area for crawlers and toddlers as well as an area for parents to relax and enjoy refreshments  overlooking the play area.  No outside food or drink permitted.
Unlimited play time all day.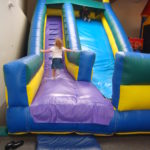 3147 Dwight Rd., Elk Grove, CA
(916) 422-4244
Open Mon. & Wed. 9-6, Tues. & Thurs. 11-6, Fri. & Weekends – call or see website
Kids walking – 17 $6.00 weekdays, $7.00 weekends & Holidays, Adults FREE
Coupon offered on website and inside the Elk Grove Laguna Shopper
Laguna's Awesome Party Palace offers drop-in play sessions that are open to the public.  Their interactive inflatables include a castle, a monster truck, a humungous slide, and an obstacle course.   Benches in the center of the room for adults to view (not encouraged to participate).  Socks required.  They are sometimes open on Saturdays if there are no parties.   This bounce house is the best bargain, especially if you use a 2-for-1 coupon from the Elk Grove Laguna Shopper.