Nature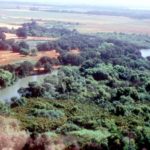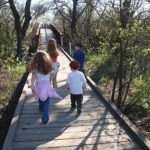 13501 Franklin Blvd., Galt, CA
(916) 684-2816
Open sunrise to sunset, year-round
Visitor Center Open most weekdays, hours vary; 9-5 most weekends
Admission FREE
Parking $5.00/per vehicle donation
Click here for our experience at the Cosumnes River Preserve.
The Cosumnes is a small river, a mere 80 miles long. Its headwaters in the El Dorado National Forest rise at only 8,000′ above sea level. From mostly rain, but also snow melt, the river's water meanders from the Sierra Nevada Mountains to the Central Valley, just south of Sacramento. Yet the Cosumnes River is far more important than its size would indicate. It is the only remaining unregulated river on the western slope of the Sierra Nevada. The free-flowing nature of the river allows frequent and regular winter and spring overbank flooding that fosters the growth of native vegetation and the wildlife dependent on those habitats. More than 250 bird species, more than 40 fish species, and some 230 plant species have been identified on the Preserve. Check their website for themed, guided walks and activities.
Two trails for hiking:
The Cosumnes RiverWalk – a 3 mile dirt trail
Lost Slough Wetlands Walk – 1 mile concrete trail, universally accessible (great for wheelchairs and strollers)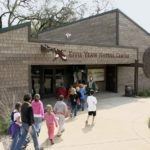 Ancil Hoffman County Park, 2850 San Lorenzo Way, Carmichael, CA
(916) 489-4918
Feb. – Oct. Open Daily 9-5
Nov. – Jan. Open Daily 9-4
FREE
Parking $5.00/per vehicle
Click here for our experience at The Effie Yeaw Nature Center.
The Effie Yeaw Nature Center is an award-winning environmental and cultural education center located within the beautiful American River Parkway in Carmichael, California. Enjoy their 77-acre nature preserve featuring interpretive trails that meander through the riparian woodlands along the American River. See deer, coyotes, migratory songbirds and wild turkeys as you explore the preserve's lush oak woodlands. Kids of all ages enjoy the The Discovery Room interactive exhibits. Check their website for themed, guided hikes and activities.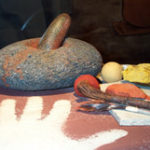 1960 Johnson Ranch Drive, Roseville, CA
(916) 774-5934
Open Mon. – Fri. 9-4, Second Sat. 9:30-5
Daily Tours: Mon.-Fr. 10am, Second Sat. 10am & 1pm
Adults $4.00, Kids $3.75, $14 Family of Four
Weekday Afternoon Discount: Mon. – Fri. All age $2.00
The Maidu Interpretive Center and Historic Site offers a safe, fenced natural haven for families and individuals who want a brief respite from the hustle and bustle of city life. Graced by oak trees and bordered on the south by a branch of Linda Creek/Strap Ravine, the nature area offers a loop trail that takes you past ancient petroglyphs and hundreds of bedrock mortars for grinding acorns, evidence of Nisenan/Southern Maidu occupation of the site for thousands of years. Inside the museum you'll find exhibits portraying the Maidu way of life. Check their website for guided hikes and activities.
Family Fun Days:
Every second Saturday from September through December, enjoy a whole day of family activities for one small price. Learn about the Maidu Indians, their culture and animals of the area and listen to traditional stories by Rick Adams.
You can spend an entire Saturday at the Center for only $14/family:
• 10:00am: Take a guided tour of the historic site, an ancient Indian village site
• 11:30am: Enjoy Native American stories around the trail or inside the museum
• 12:00pm Enjoy a picnic lunch on the patio and watch local wildlife in the garden
• 1:00pm: Beat the heat and enjoy the exhibits and hands on activities inside the museum
• 2:30pm: Enjoy Native American stories around the trail or inside the museum
3700 Christian Valley Road, Auburn, CA
(530) 878-6053
Special Sunday Programs
Open every 2nd Sunday from 1 pm -4 pm for Adventures in Nature!
On these days, all the exhibit halls are open to everyone – including the Nature Shop.
Each Adventures in Nature has its own special topic, ranging from wild animals to wildflowers to compost to reptiles. Check the calendar to see what's happening next. Guided nature walks may also available during these programs!
The Nature Trail is always open and is an easy loop. The trail is used during our school programs, so if you plan to come during a week day morning, please call ahead.
Nature Interpretive Trail
Easy loop perfect for a family hike or morning jog. Trail guide brochures are available for purchase ($1.50) or to borrow and return. Great for practicing track and scat identification and looking for wildflowers in the Spring. There is a small seasonal creek that crosses the middle of the trail with a wood bridge.
Sequoia Trail is a stroller and whellchair accessible loop bordering the garden with interpertive signs.
Woodlands Discovery Trail is just short of a mile. It is an easy hike with a shortcut in the middle for those who need to get back in a hurry. An interpertive map is availalbe and many weekend programs inlcude a guided hike.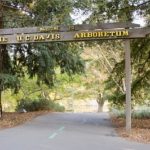 UC Davis, 1 Shields Avenue, Valley Oak Cottage, CA
(530) 752-4880
Open 24 hours/day all year
FREE
Parking $6.00/car weekdays; FREE on weekends
The UC Davis Arboretum consists of 100 acres of beautiful gardens along the banks of the old north channel of Putah Creek. There are winding paths for walkers, joggers, or bicyclists, benches and picnic tables where visitors can sit and enjoy the view. Visitors may wander through the Arboretum on their own or join public tours. The main path is a 3.5 mile loop. See their website for a calendar of activities.