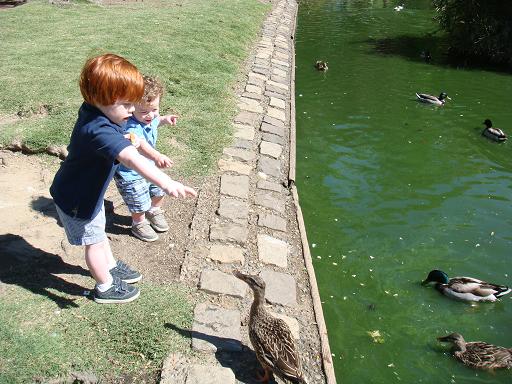 Yesterday morning I decided that staying in was not an option for the boys and I.  We took advantage of the gorgeous sunshine and went to McKinley Park.  In my opinion, it is the best park in Sacramento!  I recently saw that Sacramento News & Review listed it as Best Picnic Spot and Best Playground.
Our Experience:
We wandered through the huge Rose Garden admiring all the beautiful colors.  Then we headed on over to the lake where we fed the ducks.  Isn't it always fun, no matter what age you are?!  Once our bread was gone, we found a shady spot for our picnic.  Throughout our entire lunch, we were entertained by squirrels playing chase.  With the gorgeous greenery, the ducks, geese and squirrels, people walking their dogs and families playing…this park has a wonderful ambience!
The playground is a hit with kids of all ages.  The castle-like climbing structure is perfect for playing tag and hide-and-go-seek.  There are swings, bridges, slides, a tire swing, and monkey bars for the big kids and a tot lot complete with a sand pit for the little ones.
After getting their wiggles out, we walked over to McKinley Library for Toddler Storytime.  They really enjoyed the stories, songs and craft.  The librarian there is so great with kids!
The Expense:
A three hour outing filled with a variety of activities for FREE!
Tips:
Sometimes parking close to the lake and playground is limited, so if you have little ones, I suggest bringing a stroller for heading back to the car when they are exhausted.  If you have toddlers or preschool-age kids then try to combine your trip to this park with storytime at the library.  It is right next to the playground.  Toddler storytime is 11:00 on Tuesdays, Preschool storytime is at 11:00 on Wednesdays.
Don't forget to bring bread for the ducks!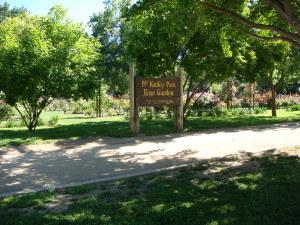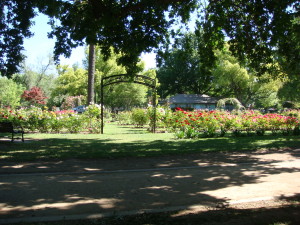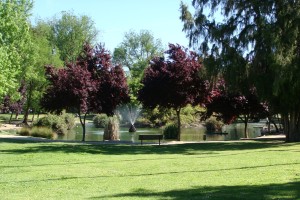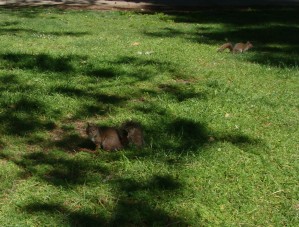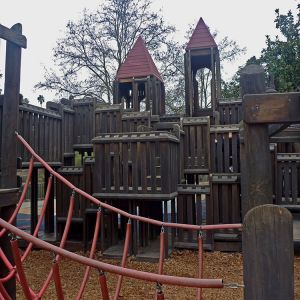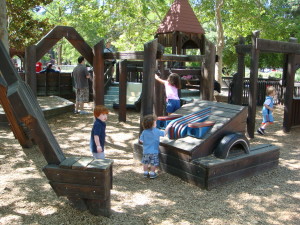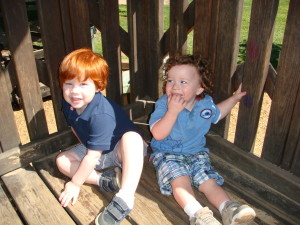 McKinley Park
601 Alhambra Blvd.
Sacramento, CA
[mappress]
Category: Fall, Outdoor Activities, Parks, Reviews, Summer