Rock Climbing

720 Olive Dr., Suite Z, Davis, CA
(530) 757-2902
Open Mon. – Fri. 11-11, Sat. 10-9, Sun. 10-6, Closed Holidays
Public Day Pass is $12.00
Public Equipment Rental is $8.00
Total = $20.00
Student Day Pass is $10.00
Student Equipment Rental is $6.00
Total = $16.00
Children 12 and Under Day Pass is $8.00
Children 12 and Under Equipment Rental is $6.00
Total = $14.00
Children 5 and Under Day Pass* is $5.00
Children 5 and Under Equipment Rental is $3 (harness only- tennis shoes are OK)
Total = $8.00
10-15 minute climbing/safety instruction is $10.00
Rocknasium is an indoor rock climbing facility located 10 miles west of Sacramento in Davis, California. We pride ourselves on making our facility welcoming to people of all ages, abilities and motivations-from a toddler starting to experiment with coordination, to a ten year old's climbing birthday party, to a college student looking for a fun way to exercise, to a hard core climber training for serious competition, to even a married couple preparing for an assault on Yosemite's El Capitan! One of the earliest climbing gyms to open in the country, Rocknasium has 8,000 square feet of climbable terrain in a 3,600 square foot facility. Their climbing ranges in difficulty from super easy to super hard. The facility is fully climate controlled for the scorching 100-degree days of summer and also for the damp, chilly, fog laden weeks of winter.
TGIF Kids Climb: Fridays, 3:30-5:30. will provide young climbers with supervision and assistance from Rocknasium staff members for two hours all at the reasonable cost of $30.00. Please call to reserve your child a spot!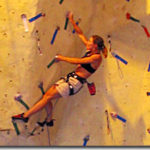 116 N. 16th Street, Sacramento, CA
(916) 341-0100
Open Mon. – Fri. 6am – 10pm, Sat. & Sun. 9am – 6pm
Weekdays after 3 pm and weekends: Adults $16.00, Kids $9.00 (Day Pass)
Weekdays before 3 pm: Adults & Kids $9.00 (Day Pass)
Equipment Rental $6.00
Age 4 and up
Sacramento Pipeworks has some of the most phenomenal climbing terrain that you will ever grab hold of. The main structure offers routes that start at moderate and range toward incredibly challenging. But not to fear, we have a whole wall designed specifically for beginners as well. The bouldering area is large and spacious with tons of impressive terrain.
Friday Night Frenzy:
3:00 – 10:00 PM
$9 to get in
$6 for gear
$5 Intro to Climbing class
Intro to Climbing Class:
(Walk-in registration daily)
Enjoy an immediate climbing experience with our instructors as they guide you through the proper use of belay equipment, knot tying and basic top rope climbing. Personal responsibility and safe climbing practices are emphasized. Recommended for first-time climbers, minimum age 14. Please arrive 15 minutes before the schedule class start time.
Monday-Friday 4:30pm, 6pm, 7:30pm
Saturday-Sunday 11:30am, 1pm, 3pm
Length of class will depend on number of students.
Cost: $27.00
(Includes day pass, equipment rental, and class fee.)
LIBRARIES
Click here for storytime information.