Spraygrounds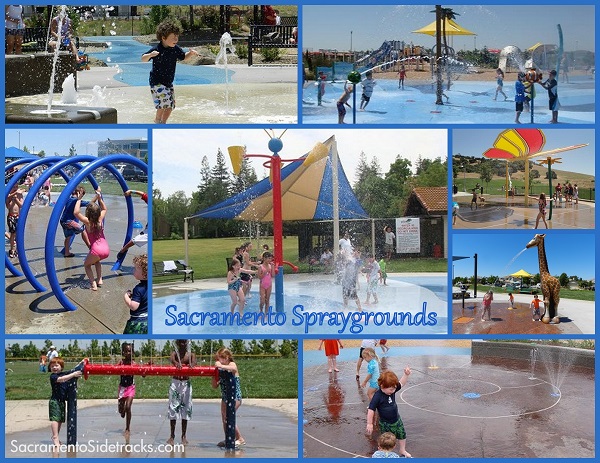 We all need a place to take the kids for some fun water play when it is HOT and are extremely lucky that throughout Sacramento, there are 12 parks with wonderful water features open for the Summer!
In response to the drought, the spraygrounds that are not recirculating have closed for the season and you will find that noted on their listings below.
We have toured several spraygrounds the last few summers and you'll see links to our reviews. We plan to get to even more this summer so that we can continue to share more photos and park details with you.
Not only do these spraygrounds provide hours of fun but they are FREE!  Happy Splashing!
Arden-Arcade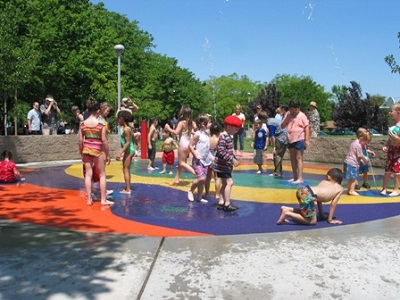 2804 Pope Ave, Sacramento
Open 10am-7pm daily; May – October 15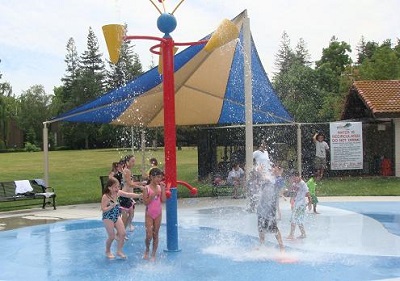 2350 Northrop Avenue, Sacramento
Open 10am-5pm Weekends May 16 through June 7; Memorial Day May 25 open 10am -5pm
Open Daily 10am-7pm June 8 – Aug 14;
10am-5pm Weekends Aug 15 – Sept 27; Labor Day Sept 7 open 10am-7pm
Review & Photos
El Dorado Hills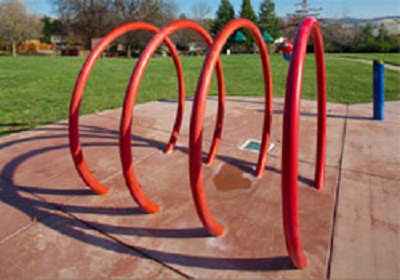 831 Redwood Ln, El Dorado Hills
Open 10am-8pm daily, Memorial Day Weekend – Labor Day Weekend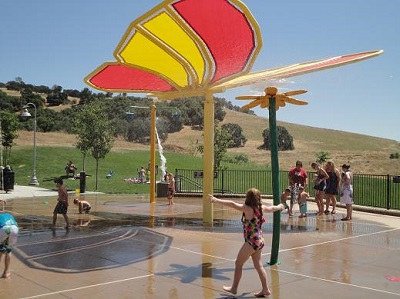 100 Alexandra Drive, El Dorado Hills
Open 10am-8pm daily, Memorial Day Weekend – Labor Day Weekend
Review & Photos
Elk Grove

10400 Stathos Drive
(Closed for the 2015 season due to drought.)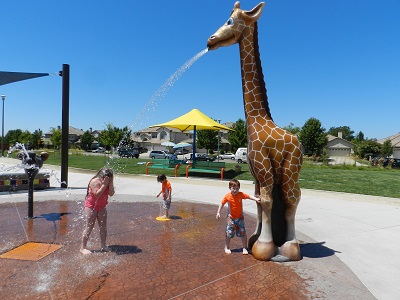 9550 Mainline Drive, Elk Grove
Open 10am – 8pm, May 1 – Sept 30
Review & Photos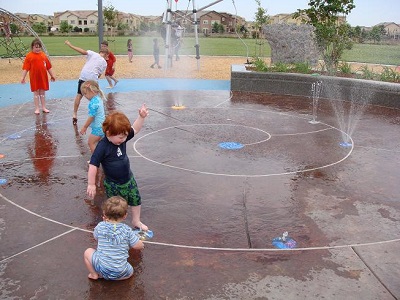 10069 Whitelock Parkway, Elk Grove, CA
(Closed for the 2015 season due to drought.)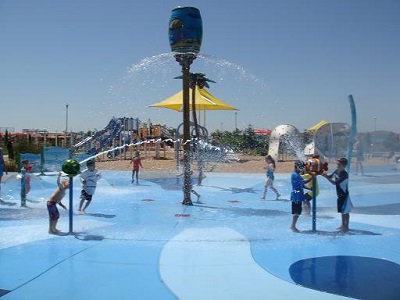 5540 Bellaterra, Elk Grove, CA
Open 10am – 8pm, May 1 – Sept 30
Review & Photos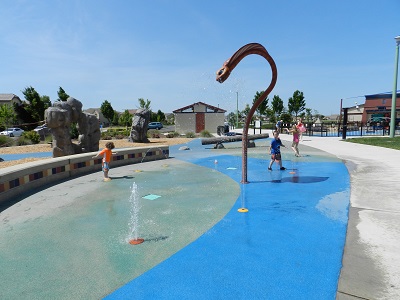 5511 Dorcey Drive, Elk Grove
(Closed for the 2015 season due to drought.)
Review & Photos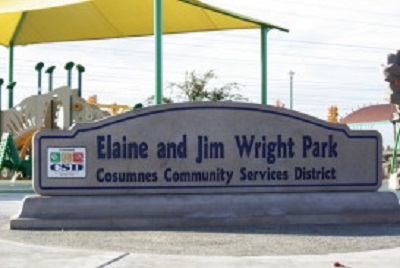 9370 Sierra River Drive, Elk Grove
(Closed for the 2015 season due to drought.)
Folsom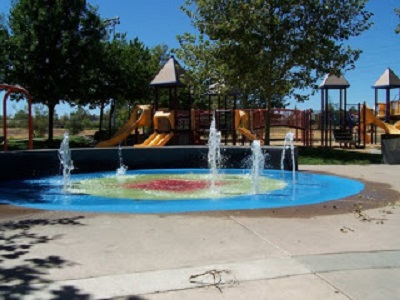 1322 Bundrick Dr  Folsom
(Closed for the 2015 season due to drought.)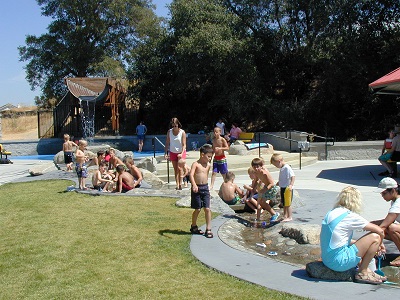 6004 Riley Street, Folsom
(Closed for the 2015 season due to drought.)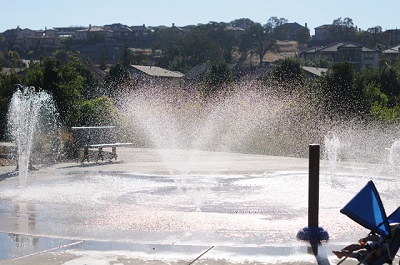 700 Golf Links Rd, Folsom
(Closed for the 2015 season due to drought.)
North Highlands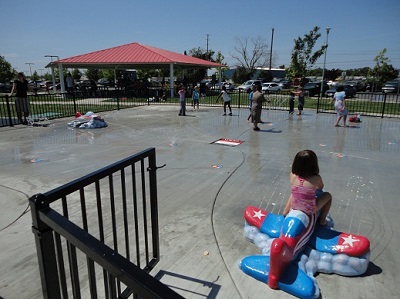 3200 Freedom Park Dr., McClellan, CA
(Closed for the 2015 season due to drought.)
Review & Photos
Rancho Cordova

4041 Borderlands Drive, Rancho Cordova
Weekends only 10am-7pm: May and September
Daily 10am-7pm: Memorial Day-Labor Day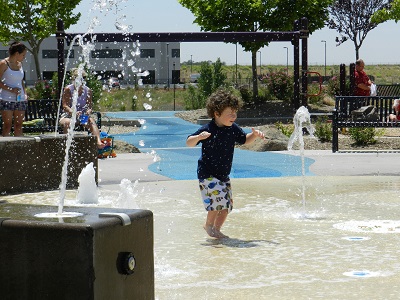 3625 Spoto Drive, Rancho Cordova
Weekends only 10am-7pm: May and September
Daily 10am-7pm: Memorial Day-Labor Day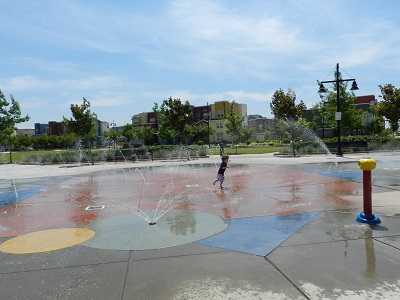 3141 Bridgeway Drive, Rancho Cordova
Weekends only 10am-7pm: May and September
Daily 10am-7pm: Memorial Day-Labor Day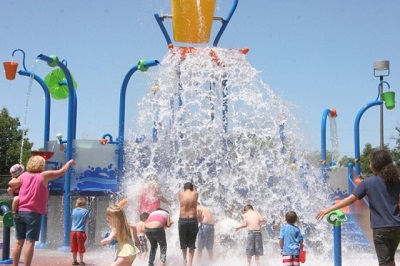 10488 White Rock Rd, Rancho Cordova
May 3-25 and September 6-28: Weekends only 12pm-5pm: May and September
May 25 – August 7: Seven days a week 12pm-7pm
August 8 – August 30: Monday-Friday 3pm-6pm / Saturday-Sunday 12pm-5pm
[$1 wristband to ride water slides; main sprayground area free]
Rocklin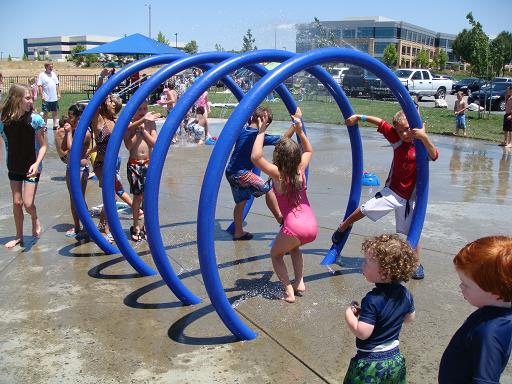 6101 West Oaks Blvd., Rocklin, CA
(Closed for the 2015 season due to drought.)
Review & Photos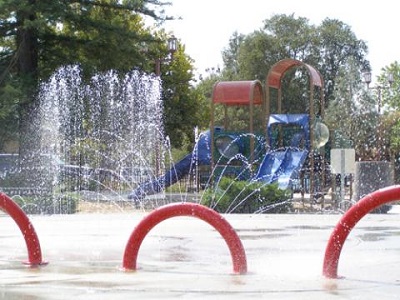 3980 Rocklin Road, Rocklin
(Closed for the 2015 season due to drought.)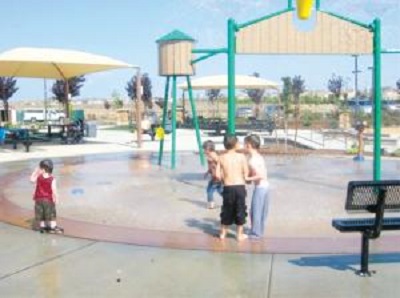 1810 Whitney Ranch Parkway
(Closed for the 2015 season due to drought.)
Roseville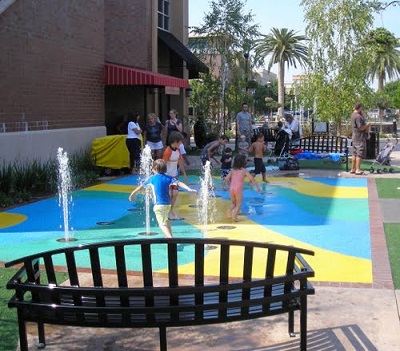 1013 Galleria Blvd, Roseville
(Under renovation but should be up and running end of May. Call 916-786-2679 for updates.)
West Sacramento
3650 Southport Parkway, West Sacramento, CA
(Closed for the 2015 season due to drought.)
Review & Photos
Woodland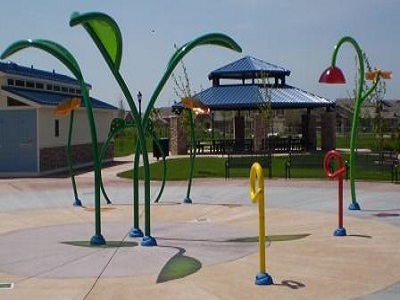 1705 Miekle Avenue, Woodland
Open 10am – 8pm daily, May – October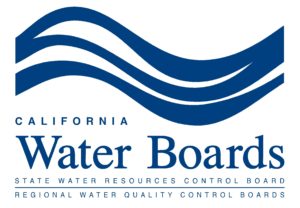 [This sprayground information has been updated for the 2015 season and is subject to change due to drought. Visit the State Water Board website for more info.]