You AND your kids will enjoy this classic musical together!
We journeyed through the magical land of Oz last Friday night during Runaway Stage Productions' opening night of The Wizard of Oz! This family favorite is playing at the 24th Street Theatre each weekend through July 28, 2013.
Click your heels together and join Scarecrow, Tin Man, Lion, Dorothy and her little dog Toto, as they journey through the magical land of Oz to meet the Wizard and obtain their heart's desires! Watch out for the Wicked Witch of the West and her winged monkeys as you rediscover the real story of Oz.
This is Runaway Stage Productions' current "Broadway Stage" show which means big talent, live orchestra…the works! Typically, I recommend their "Broadway Stage" shows for older kids and adults but younger ones can sit through and enjoy The Wizard of Oz! My youngest is four-years-old and he was completely engaged throughout the show. I saw many other younger children in the audience who were also quiet and obviously enjoying every moment.
My three kids and my daughter's friend were ALL anxiously anticipating seeing this show on stage as they've seen the movie and love the songs. It was fun to have my boys so excited since typically my theatre-loving daughter is the one who "can't wait!".
On our drive to the theatre, the kids chatted away with anticipation, wondering if Toto would be played by a real dog (which he was…and we adored him!), how would they portray a tornado, and who would play the Munchkins?
This classic rendition of The Wizard of Oz was a joy to watch! There was never a dull moment in this show. From start to finish, the story was presented with such zest! I could not help but smile from ear to ear throughout the show as I was able to fully enjoy it myself, since the kids were completely enthralled.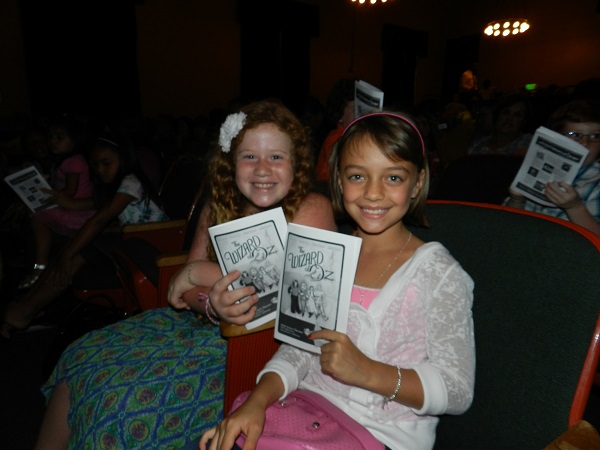 "Since the movie is so beloved, great care is taken to bring the spirit of the story to the live stage," RSP Artistic Director Bob Baxter said. "We have a few magical tricks up our sleeves, and I am sure audiences will enjoy the live production of this classic family tale."The RSP production will use the Royal Shakespearean script and closely follow the classic Judy Garland MGM film.
The score includes the classic songs "Somewhere Over the Rainbow," "If I Only…," "We're Off to See The Wizard" and more.
The kids and I are STILL talking about the show days later and singing the tunes!
It was such a treat to meet Dorothy and the whole cast outside after the show! 
Runaway Stage Productions presents The Wizard of Oz!
When: Playing July 5-28, 2013; Fridays and Saturdays at 8pm, Sundays at 2pm
Where: 24th Street Theatre, 2791 24th Street, Sacramento
Tickets: General $25.00, Kids 12 and under $18.00
More info: Click here
Enter to Win a Family 4-Pack of Tickets!
Runaway Stage Productions has generously offered 4 Tickets (to be used for adults or children) for one lucky winner!  The winner will get to choose which performance they would like to attend.
Here's how to enter:
1. Click here and 'Like' Runaway Stage Productions on Facebook.
2. Leave a comment below letting me know you did #1 and why you would love to win The Wizard of Oz tickets!
These 2 things count as 1 entry. 1 entry per person. The giveaway will close on Monday, July 15th at midnight and the winner will be announced Friday morning. Good Luck!