Indoor
Here are some fun things to do with the kids when you want to stay indoors!  From Animals to Museums to Theatres…this list has something for everyone!
ANIMALS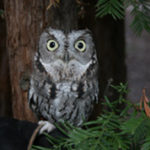 3615 Auburn Blvd., Sacramento, CA
(916) 575-3942
Winter hours (September – June) Tues. – Fri. 12 noon – 4:30 pm, Sat. – Sun. 10 am – 4:30 pm
Summer hours (July – August) Daily 10 – 5
Weekday admission: Adults $6.00, Teens 13-17 $5.00, Kids 4-12 $4.00, Kids 3 and under FREE
Weekend admission: Adults $8.00, Teens 13-17 $7.00, Kids 4-12 $6.00, Kids 3 and under FREE
Wild Life Shows!
Visit live animals in the Nature Discovery Hall. Birds, mammals, reptiles, and insects are here waiting to help you learn about their fascinating lives and habitats. Wildlife shows are included in your general admission.
All year: 12:00pm and 2:00pm on Saturday and Sunday
Additional shows in July and August: 2:00pm Monday-Friday
4465 Granite Drive, Suite 700, Rocklin, CA
(916) 632-8347
Open Fri. 1-5, Sat. 10-4, Sun. 12-4
General Admission $6.00, Kids under 16 $5.00, 2 and under FREE
Tours start every hour on the hour.  Last tour starts one hour before closing.
Click here for our experience at the Star ECO Station.
Working in collaboration with the U.S. Fish and Wildlife Service and other government and environmental organizations, STAR ECO Station provides a last chance for illegal or abandoned at-risk exotic wildlife.  Visitors to the STAR ECO Station experience incredible hands-on lessons of ecology and environmentalism on breathtaking encounter with beautiful tropical birds, exotic reptiles, wildcats and ocean life in a tropical jungle setting.  Environmental partnerships enhance the station with 15 discovery exhibits from organizations such as the World Wildlife Fund, US Fish and Wildlife, Surfrider, and Santa Monica BayKeeper's unique Storm Drain display and walk-thru Kelp Forest.
ART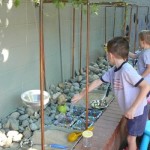 2226 K Street, Sacramento, CA
(916) 441-1233
Open Daily 9am-6pm
Admission $8 per person.
Children under 1 and extra adults in same family are FREE
Click here for our experience at Art Beast.
The open studio features tables, easels, and clay mounds where young artists can work. Surrounding shelves are stocked with paint, papers, nature findings, recycled tidbits, glues, crayons, and offerings from which to make art. Children gain confidence in expressing and messing as they create pieces that speak their sense of the world.
ArtBeast classes emphasize exploration over specialization. Classes include dance, yoga, storytelling, singing, Spanish, visual arts, music, movement, and dramatic arts. Our memberships allow children to sample the arts affordably so that they needn't pick a single discipline or limit exploration to 45 minutes a week.
Play Spaces:
* Dramatic Play: Features puppet theatres, costumes, props, sets, and a stage to perform stories, songs and dances.
* The Loft: Provides nooks, ramp, and bridge to create tiny worlds using fabric, props, new friends, and strong imaginations.
* The Nest:  Reserved for those still finding their feet, the nest offers a soft play river walk and tummy time space for babies to a claim a variety of adventures.
* Music: Guitars and drums. Jingles, songs and percussion galore!  An outside bang wall of pots and pans allows children to create music.  Weekly song circles brings beasities together to sing and dance.
* The Courtyard:  The wildest messes will happen in the courtyard where your family will enjoy sand, gravel and water play, chalk work, and art that spills.
* Movement Room: Build paths and obstacle courses, twirl, tap dance, and mirror yoga poses as children learn to balance and move.
BOUNCE HOUSES
Tip:  Remember that Bounce Houses require the kids to wear socks and will not let them play without them.

9844 Business Park Dr., Sacramento, CA
(916) 366-9999
Open Mon & Wed 10am – 6pm
Kids $7.00/per child.  Under 2 Free.
No time limit.
Family Bounce Night:
Wed 6:30pm – 8:30pm
Autism Family Bounce Night:
First Monday of every month
6:30pm – 8:30pm

2939 Promenade St., West Sacramento, CA
(916) 371-2386
Open Wed.-Fri. 10-6, Summer Mon.-Fri. 10-6
Kids $7.00, Adults FREE
Click here to see our experience at Bounce Spot.
Open Play Sessions:
Our Public Play Times are Mon-Fri 10-4 for the summer months beginning on June 14th. Please visit our calendar for weekend hours, they are usually posted on Friday. Cost is $7 for all ages (crawlers count). Two adults free per family, additional adults are $5 each. Our open play room has a huge 18 ft. slide, 65 ft. long obstacle course, a bouncer with boxing, jousting, volleyball and basketball, plus a fenced in toddler area (inflatable ball pit, toys, books, and so much more) We only allow 40 children during any open play session, it is first come first serve, if we see an issue arise we may break open play sessions into 2 hour blocks.  DON'T FORGET SOCKS!
Family Nights:
3rd Friday of each month:  $8.00 per person.  Includes 3 hours of  bounce time, pizza, salad, drinks, and ice cream.  Reservations are required with full payment. Spots are limited, so call early.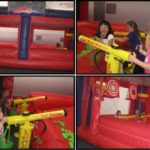 7611 Galilee Road, Roseville, CA
(800) 640-1385
Summer Open Bounce Schedule (June 5th – Aug. 17th):
Mondays: 9:30 (ages 7 and under),
11:00, 1:30, 3:00 (all ages)
Tuesdays: 1:30, 3:00 (all ages)
Wednesdays: 9:30 (ages 7 and under), 1:30 & 3:00 (all ages)
Thursdays: 9:30 (ages 7 and under), 1:30& 3:00 (all ages)
Fridays: 10:00 (all ages), 12:30 (ages 7 and under), 2:00 (all ages)
hey are sometimes open on the weekend if there are no parties.
Sessions are 75 minutes long.
Kids $6.00, 2 and under FREE
Family Night: Wed. 6:10 – 8 PM
$8.95/child, $7.95/sibling
At Bounce U, Children and grown-ups alike almost always experience the "wow factor" when they first get a look at the incredibly cool bounce houses. With their amazing kids' party inflatables, interactive activities, knowledgeable staff, and one-of-a-kind environment, this place really is all about having stress-free fun. Their bounce stadiums are packed with cutting-edge play structures and games that are appropriate for kids from age 2 to 65.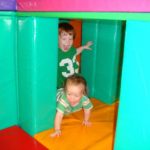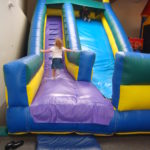 3147 Dwight Rd., Elk Grove, CA
(916) 422-4244
Open Mon. & Wed. 9-6, Tues. & Thurs. 11-6, Fri. & Weekends – call or see website
Kids walking – 17 $6.00 weekdays, $7.00 weekends & Holidays, Adults FREE
Coupon offered on website and inside the Elk Grove Laguna Shopper
Laguna's Awesome Party Palace offers drop-in play sessions that are open to the public.  Their interactive inflatables include a castle, a monster truck, a humungous slide, and an obstacle course.   Benches in the center of the room for adults to view (not encouraged to participate).  Socks required.  They are sometimes open on Saturdays if there are no parties.   This bounce house is the best bargain, especially if you use a 2-for-1 coupon from the Elk Grove Laguna Shopper.
LIBRARIES
Our local libraries are always holding fantastic events and storytimes for kids and families! Check out their websites through the links below, our Events Calendar, or our Storytime list.
MUSEUMS
SKATING
STORYTIMES
THEATRE