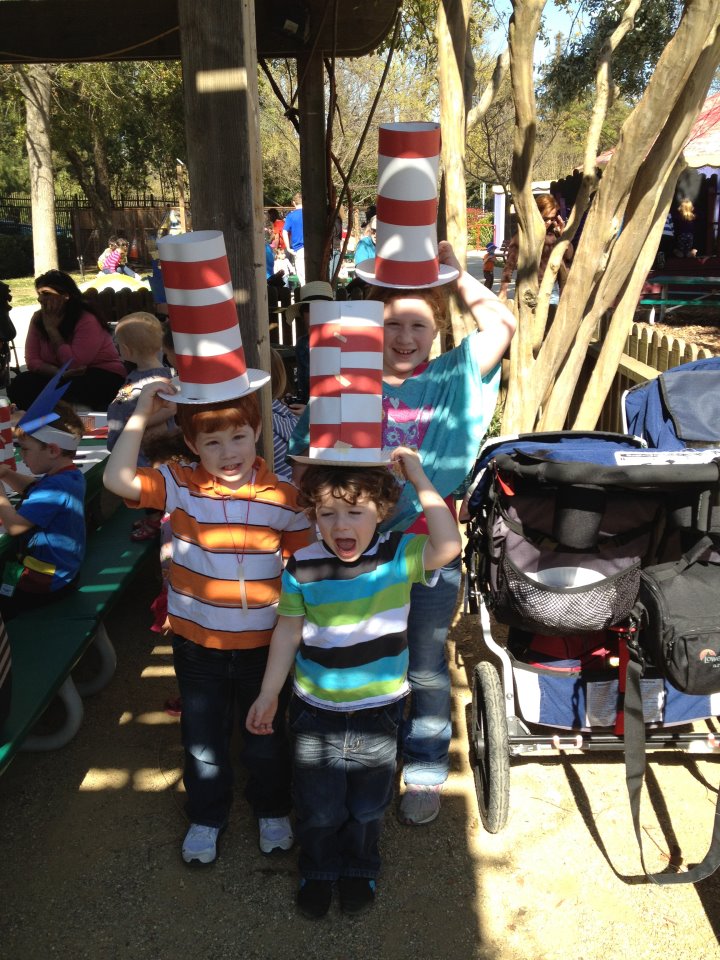 "From there to here, from here to there, funny things are everywhere."

Fairytale Town will mark the beloved author and illustrator's birthday with all things Seuss on Sunday, March 2 from 11 am to 3 pm, at their annual Dr. Seuss' Birthday Celebration! This happens to be one of our favorite events of the year!
Celebrate Theodor Seuss Geisel's birthday with popular Seuss-themed hands on activities and crafts. How cute are those striped hats in the photo above that my kids got to make last year?!
This year's celebration will include an extra special treat…Runaway Stage Productions will perform excerpts from Seussical, The Musical in the Children's Theater at 11:15 and 11:45 AM!
Stop by the Mother Goose Stage for a unique NONSTOP READ-ALOUD of your favorite colorful, tongue-twisting, rhyming Seuss books!
Here's this year's line-up of Featured Readers:
11 AM
Phil Serna, Sacramento County Supervisor – Green Eggs and Ham
Donna Apidone, Capital Public Radio – One Fish, Two Fish, Red Fish, Blue Fish
Cheryl Dell, Sacramento Bee – Oh, The Places You'll Go!
Rafael Siegel, Sacramento & Co – Mr. Brown Can Moo, Can You?
Dinger & MC Mike on the Mic, Sacramento River Cats – The Sneetches

12 PM
Steve Hansen, Sacramento City Council Member – Fox in Socks
Pam Dinsmore, Sacramento Bee – Hop on Pop
Arlene Greene & Maria Collins, ScholarShare College Savings Plan – I Am Not Going To Get Up Today! (Read in English & Spanish)
Angelique Ashby, Sacramento City Mayor Pro Tem – The Butter Battle Book

1 PM
John Shirey, City of Sacramento – The Cat in the Hat Comes Back
Keilah Woodard, Sacramento Sidetracks – There's a Wocket in My Pocket
Dan Arthur, Mix96 Morning Show – The Lorax
Don Nottoli, Sacramento County Supervisor – Horton Hears a Who!
Stephanie Bray, United Way California Capital Region – I Can Read With My Eyes Shut!

2 PM
Roger Dickinson, California State Assemblymember – The Cat in the Hat
Rick McVey, Fairytale Town – The Foot Book
Kevin McCarty, Sacramento City Council Member – Huevos Verdes Con Jamon (Green Eggs and Ham in Spanish)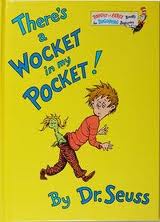 I am very excited that I was invited to be one of the featured readers! I'll be reading one of my family's all time favorite Dr. Seuss books, There's a Wocket in My Pocket in the 1:00 hour. "Did you ever have the feeling there's a WASKET in your BASKET?" Hope to see you there!

Dr. Seuss' Birthday Celebration
When: Sunday, March 2; 11am-3pm (weather permitting)
Where: Fairytale Town, 3901 Land Park Drive, Sacramento, CA 95822
Cost: General admission: Adults & Kids $5.00, age 1 and under free
Info: Click HERE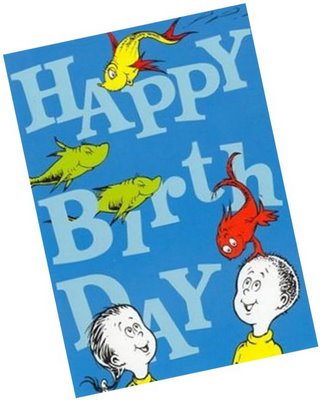 WIN A FAMILY FUN PACK:
Admission for 4, a Magic Key and CD!
Fairytale Town has generously offered a Family Fun Pack for one lucky Sacramento Sidetracks reader! The winner will receive admission for 4, a Magic Key that unlocks the Storybook Boxes throughout the park (you can bring it back every time you visit) and a Fairytale Town CD with the songs from the Storybook Boxes as an awesome souvenir!
Here's how to enter:
1. Click here and 'Like' Fairytale Town on Facebook.
2. Leave a comment below letting me know you did number 1 and which Dr. Seuss book is your family's favorite.
(I currently have to "approve" every comment coming in, so do not worry if you do not see it show up immediately.) These 2 things count as 1 entry. 1 entry per person. The giveaway will close on Wednesday, February 26th  at midnight and the winner will be chosen using random.org, then announced Thursday morning. Good Luck!